Alle 5 del mattino del 13 gennaio 2017 Nintendo presenta al mondo la sua nuova console: nel corso della lunga conferenza stampa, totalmente incentrata sul prodotto, vengono mostrati alcuni trailer di alcuni tra i giochi più attesi: tra questi Splatoon 2, Super Mario Odissey, Xenoblade 2, Shin Megami Tensei e Breath of the Wild.
Il presidente di Nintendo Kimishima, dopo aver brevemente parlato delle reazioni positivi al trailer rilasciato a ottobre, ha fornito alcune informazioni sulla data di lancio: si parla del 3 marzo 2017 per Giappone, USA, Canada ed europa. Quanto al prezzo, sembra fissato a 29,980 yen per il Giappone, 299.99$ per gli USA e – molto probabilmente – 299,99 € per l'Europa. E' prevista la presenza di servizi online – gratuiti per una prima fase, per poi passare a pagamento entro fine anno – e di una chat in tempo reale tra giocatori.
La descrizione delle caratteristiche tecniche della console viene lasciata al director Shinya Takahashi, che descrive Switch come una sintesi perfetta delle migliori innovazioni apportate da Nintendo nel corso di tutte le ultime console realizzate. Si tratta di una console casalinga e dalle dimensioni contenute, quindi estremamente trasportabile; sono inoltre previste tre modalità d'uso: TV mode, ovvero collegata alla tv; Tabletop mode, per giocare direttamente sullo schermo; Handheld mode, dove lo schermo si impugna e si utilizzano i Joy Con.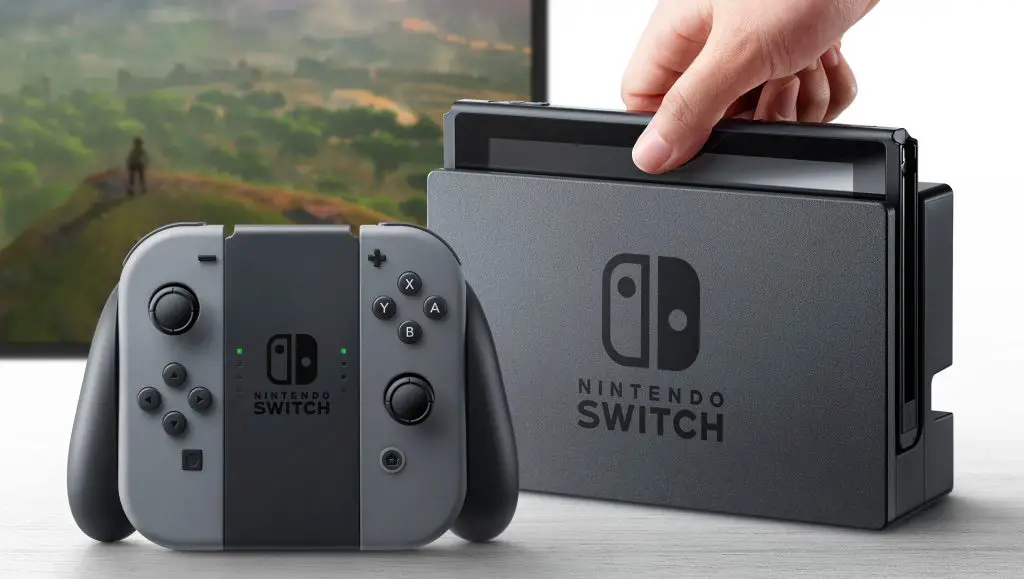 Questi ultimi rappresentano un'altra innovazione: a spiegare il loro funzionamento è Yoshiaki Koizumi, che ne mette in risalto le caratterstiche salienti. I controller si presentano di piccole dimensioni e facili da impugnare: le levette analogiche possono essere premute come pulsanti, mentre i tasti ricordano molto da vicino quelli del controller Wii U. E' inoltre presente un NFC reader che permette di utilizzare gli Amiibo. Il controller consente inoltre di effettuare screenshot in tempo reale e condividere i nostri scatti sui social network. I controller potranno essere connessi tra loro o utilizzati in modo indipendente, a seconda dei giocatori e dei Joy-Con disponibili: avranno l'ormai immancabile laccetto di sicurezza tipico dei Wiimote. Sul pad è inoltre presente una telecamera che sarà dotata di riconoscimento ottico e telemetria. L'intervento di Koizumi si conclude con una dimostrazione dell'innovativa tecnica HD rumble, un nuovo tipo di vibrazione che consente di fornire al player un feedback estremamente realistico.
Chiunque si fosse perso questa interessante presentazione può recuperarla sul canale ufficiale Youtube Nintendo. Per comodità riportiamo di seguito il video integrale:
Buona visione!