Episode 23 "Like a Boatsman Adrift" takes us to the epilogue of this third season of Chihayafuru.
After the end of the arc dedicated to the competition for the title of Queen and Meijin, we return to follow the protagonists struggling with their normal student lives, as they are close to the beginning of their last year of high school.
Surprisingly for the audience (at least for those who have not read the manga yet) what seemed destined to be a light-hearted episode, a simple transition to the future Karuta competitions of the series, has instead touched the most dramatic and emotional point of the entire story.
Episode 23, with Taichi confessing his love to Chihaya, seems to mark an irreversible breakdown of interpersonal balance and a brutal push towards a new evolution of the characters.
In the previous episode, we saw Chihaya realize the inner conflict experienced by Taichi and, while unable to understand neither his sentimental nor his human drama, she tries in every way to make him smile again.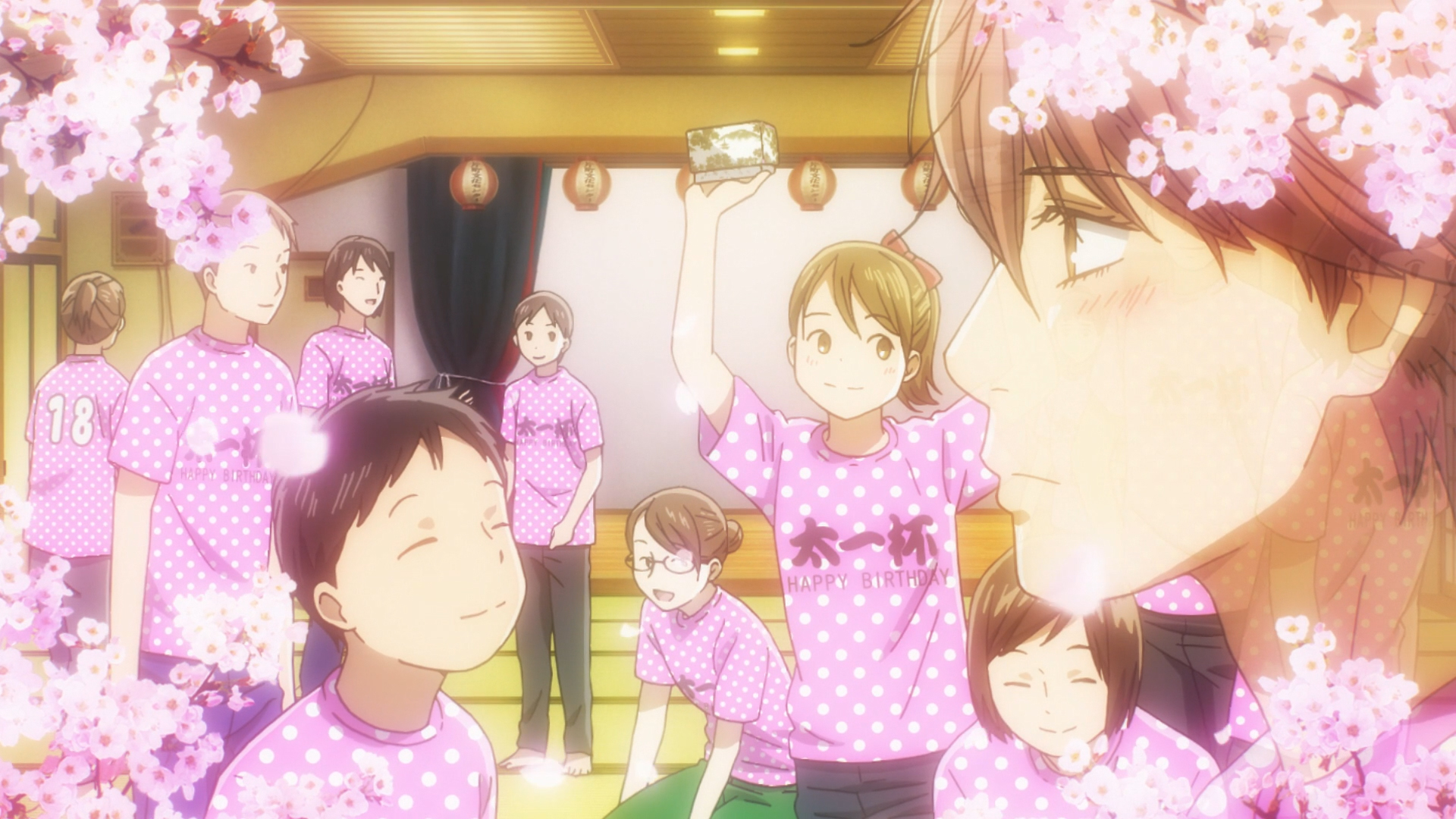 This unprecedented attention shown by Chihaya (who is endowed with a heart of gold but usually too naive) towards his friend,  surprised us a lot.
We saw the girl for the first time think and try to understand Taichi, with an interest and devotion that is not commonly reserved to a simple teammate. So much so that we thought that something was really changing in the main character's feelings and that Chihaya herself would soon have to deal with it.
Episode 23 opens with comedy tones and with the surprise party for the boy's 18th birthday: the "Taichi Cup" organized by Chihaya. Taichi himself seems moved when noticing what effort and care she puts into making him happy.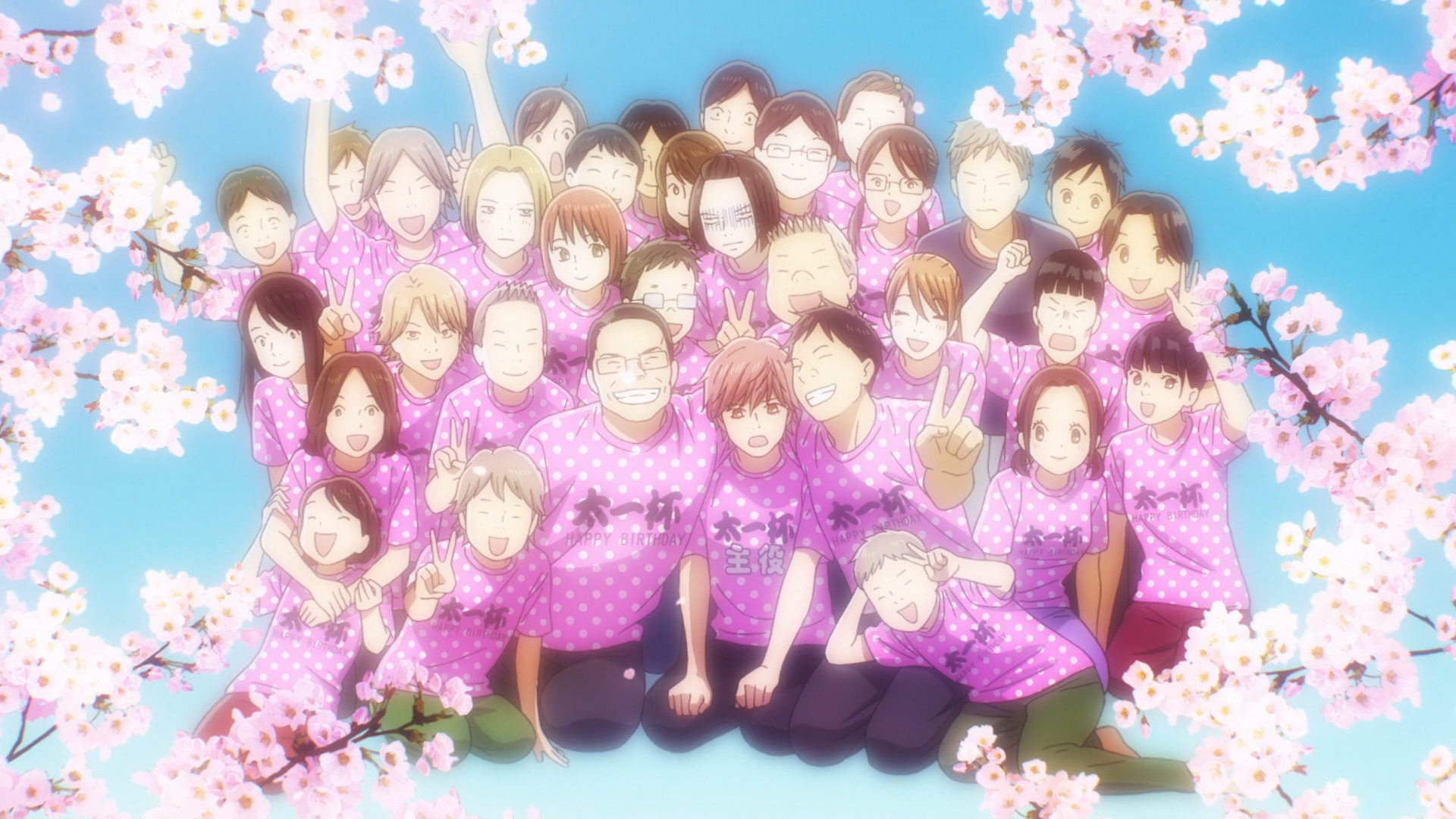 Keeping faith to the decision taken in the previous episode, Taichi, who no longer wants to run away from his feelings, takes the opportunity to talk to Chihaya and confesses, in the Karuta club room, flooded with cherry blossom petals, to love her.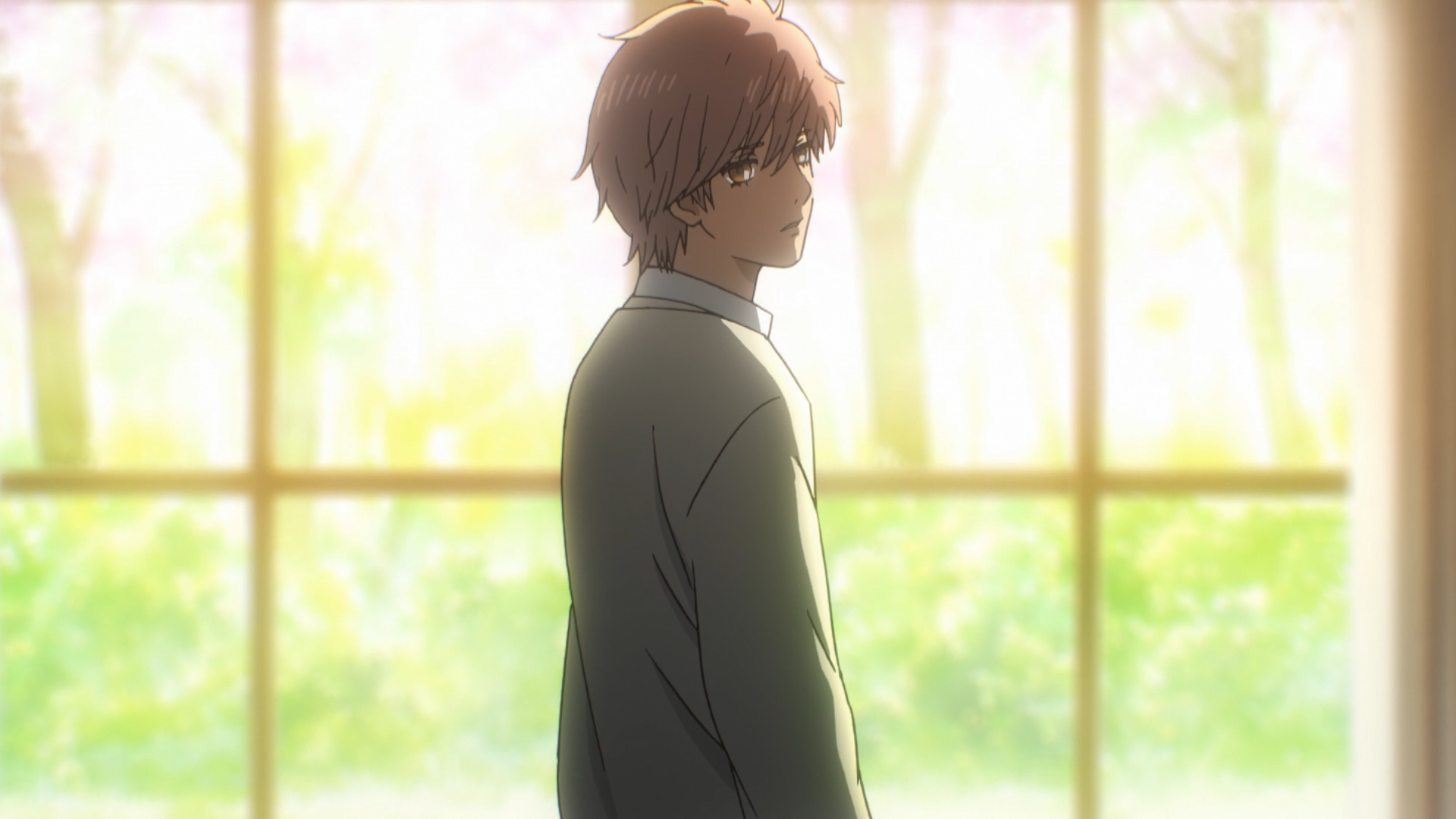 The courage to make himself vulnerable by exposing his feelings, with the almost absolute certainty that the answer he wishes won't come, makes his beautiful confession more than just romantic.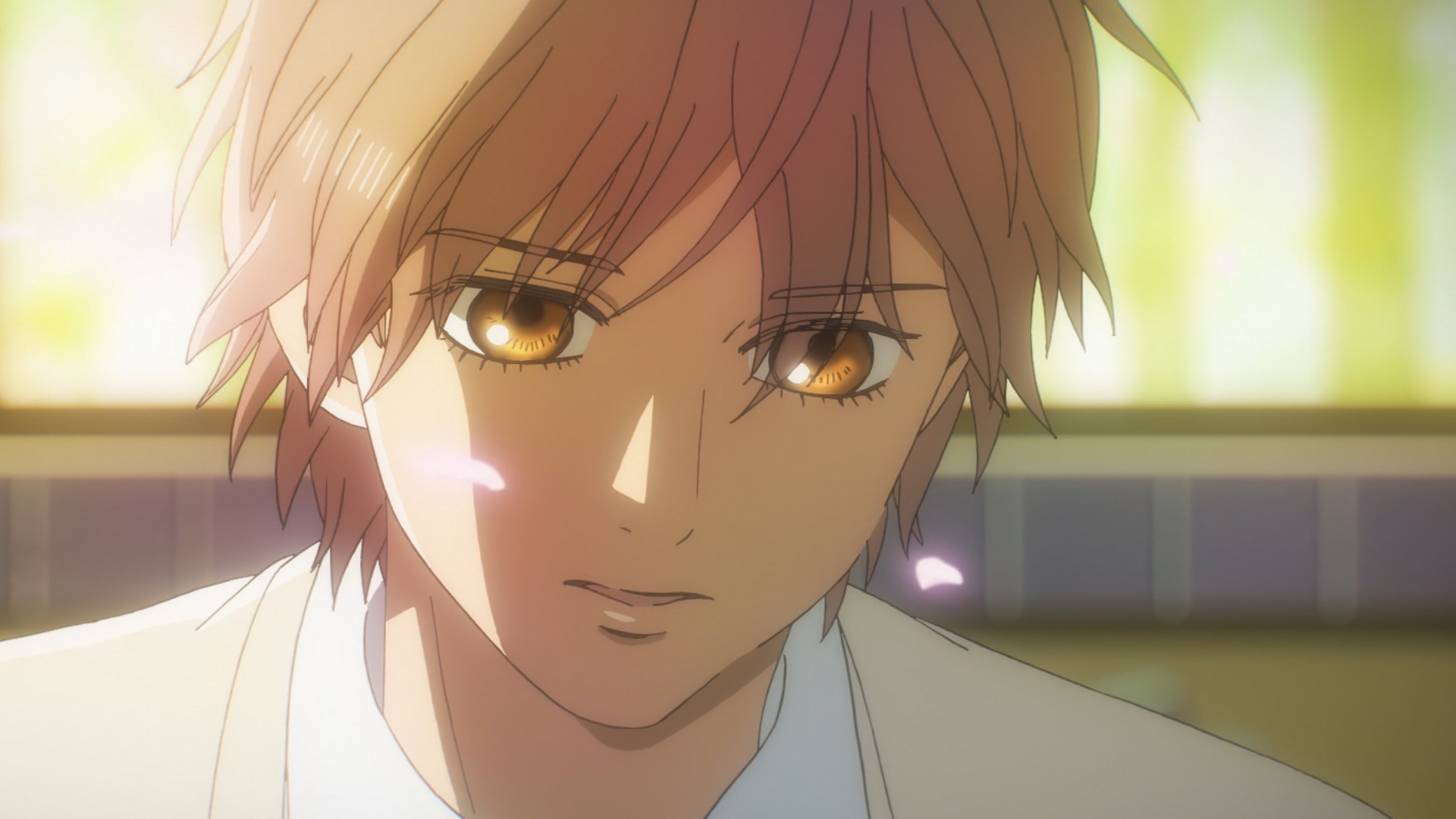 Taichi knows that his attempt is desperate and seems to have already accepted the consequences of rejection when he decides to finally give voice to his love.
"I have always known, deep down, that I could devote my entire youth to karuta without ever become better than Arata" Taichi said to Harada sensei before founding the Karuta club of Mizusawa with Chihaya.
"You can only say that after you've really tried" the old man replied, the same man who has just shown to the world that he is still able to put all of himself into his dream of becoming Meijin.
Harada sensei lost the match against Suo but fought without being intimidated, without sparing himself and came out as a true hero.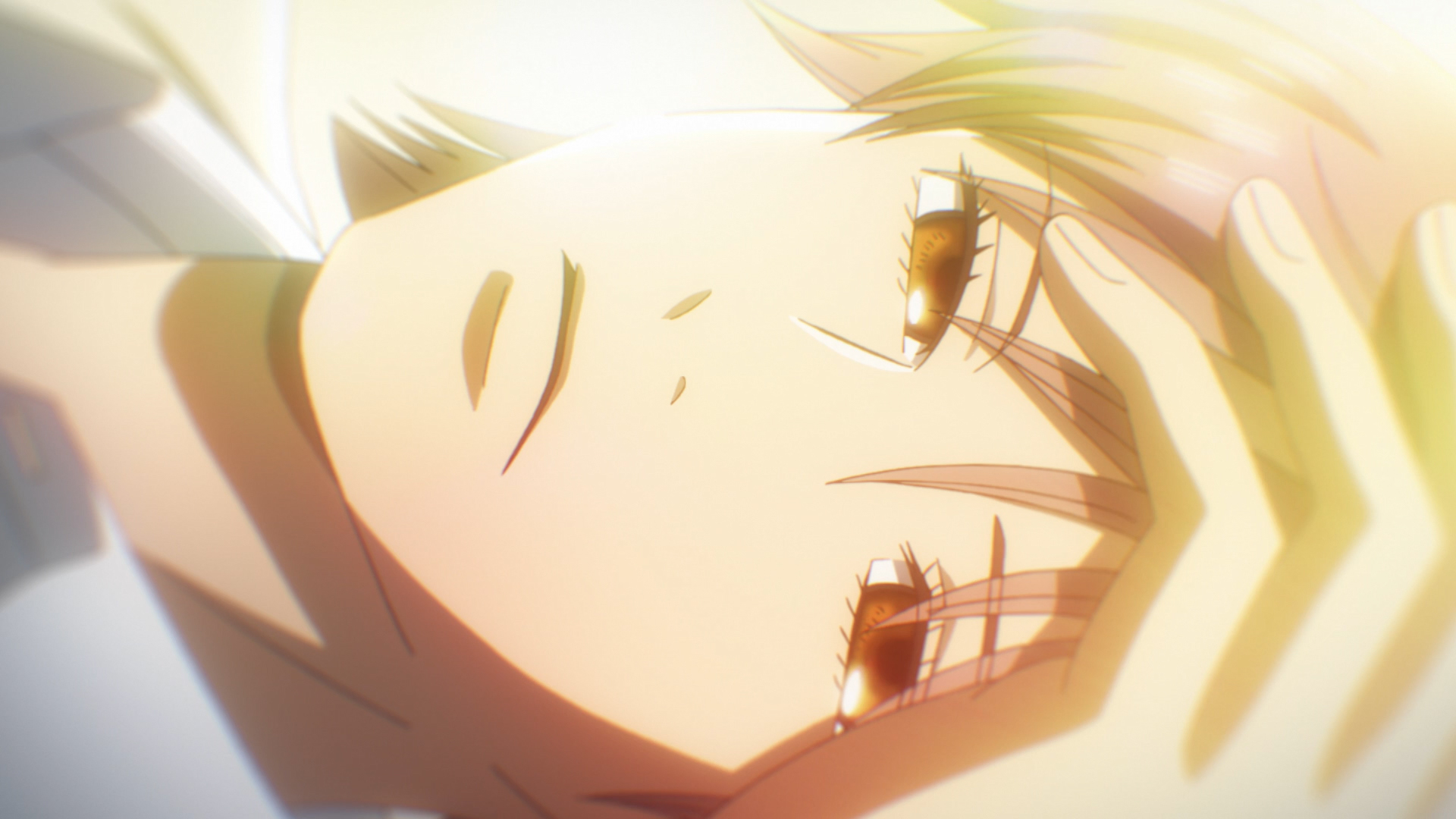 In the same way, Taichi doesn't want any regrets and it seems that the time has come for him to decide where to direct his future and his talent.
"I have already devoted my youth (to Chihaya and Karuta) that is why I am scared. What if, at the end, there's nothing? What if I'm left with nothing but regrets?"
"I've always, always wanted to be someone who isn't a coward".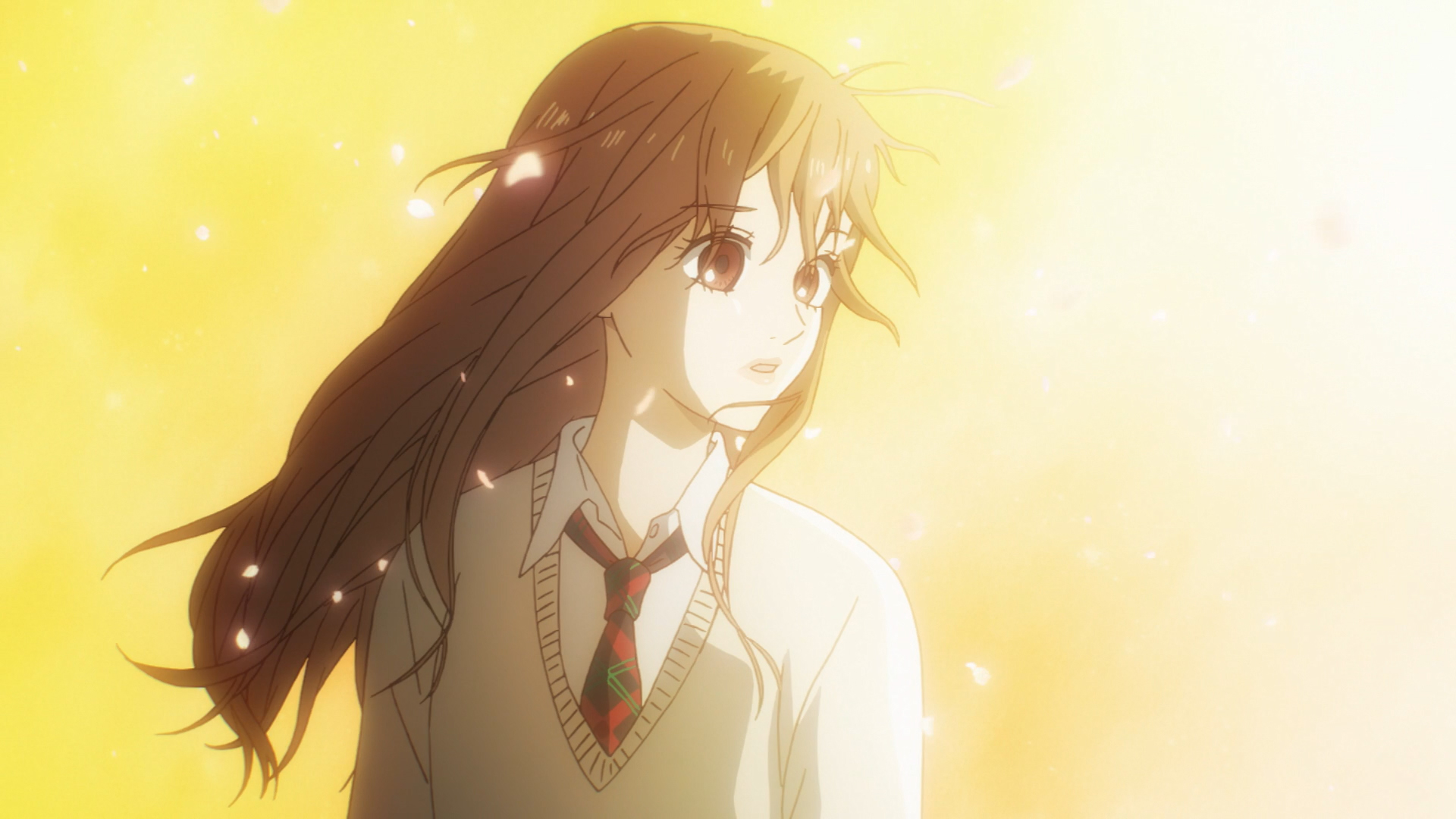 To the unexpected love confession, Chihaya replies something that we can't hear. A foreseen and expected refusal. Taichi, with his usual composure, leaves the room while the audience end up feeling the same burden the boy bears on his heart.
Taichi knows that he has to turn over a new leaf and that his future must now go far away from Chihaya, Arata, the club and Karuta.
Despite the overwhelming blossoming of spring outside the window, there is a feeling of gloomy despair, just as "pitch black" as the 100 sweet poems imprinted on the cards are now, for Taichi.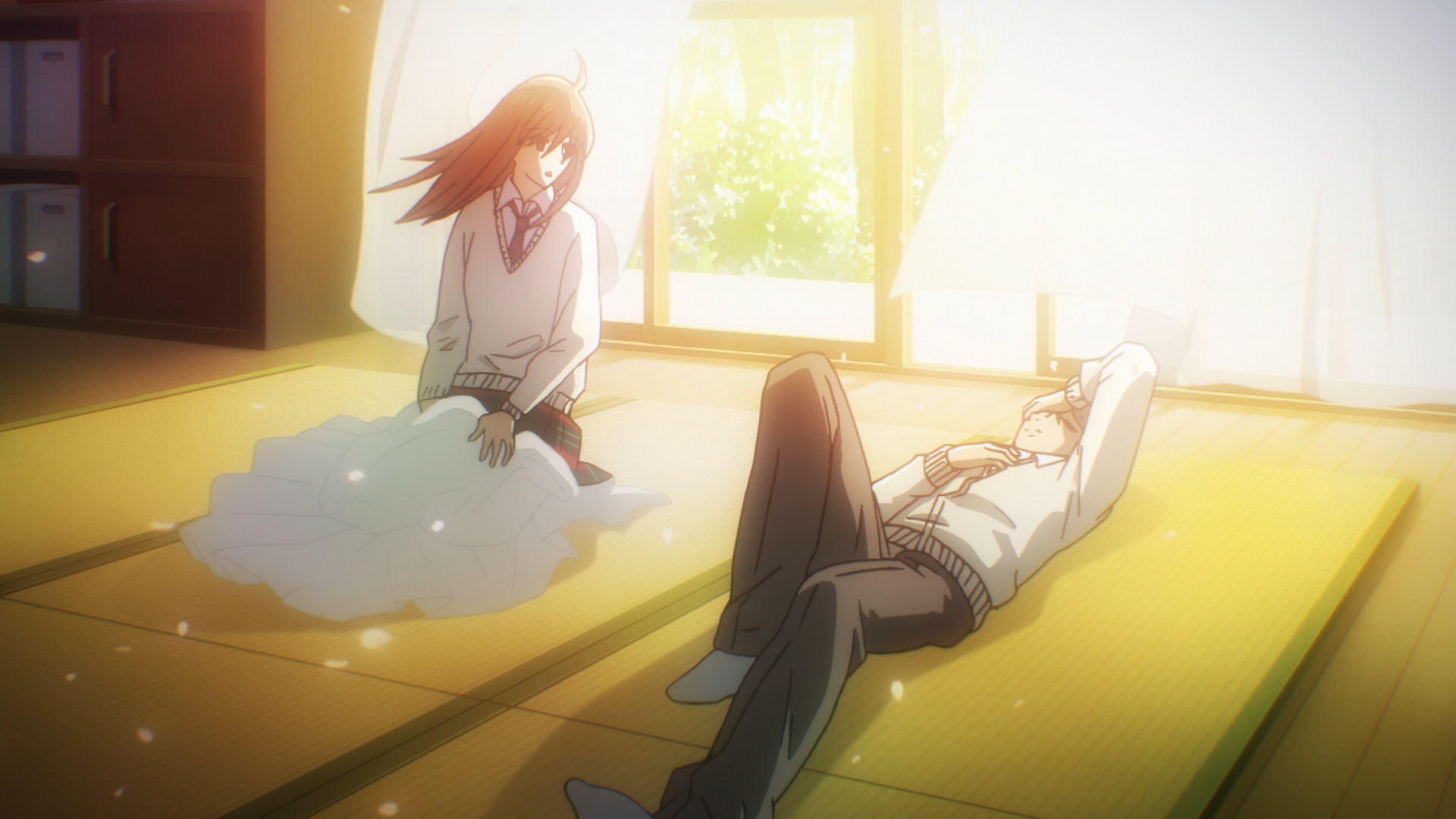 Taichi's many talents can now be effectively put into something more "important", as his mother always wanted for him. But it doesn't make the separation any less painful for him, nor for the audience, nor for Chihaya.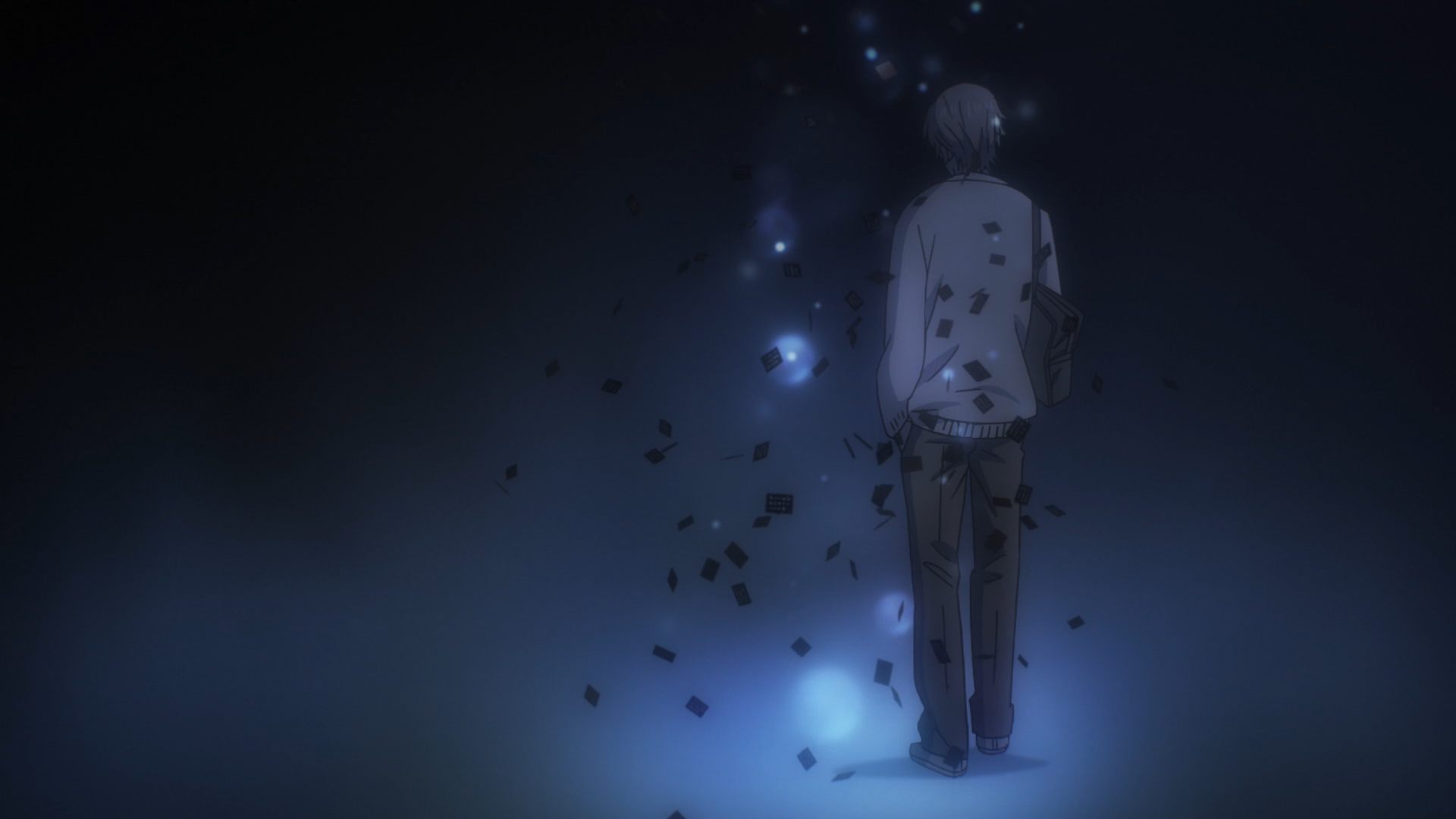 After Taichi announces his retirement from the Karuta club, the girl, in tears, chases him and beg him to reconsider it.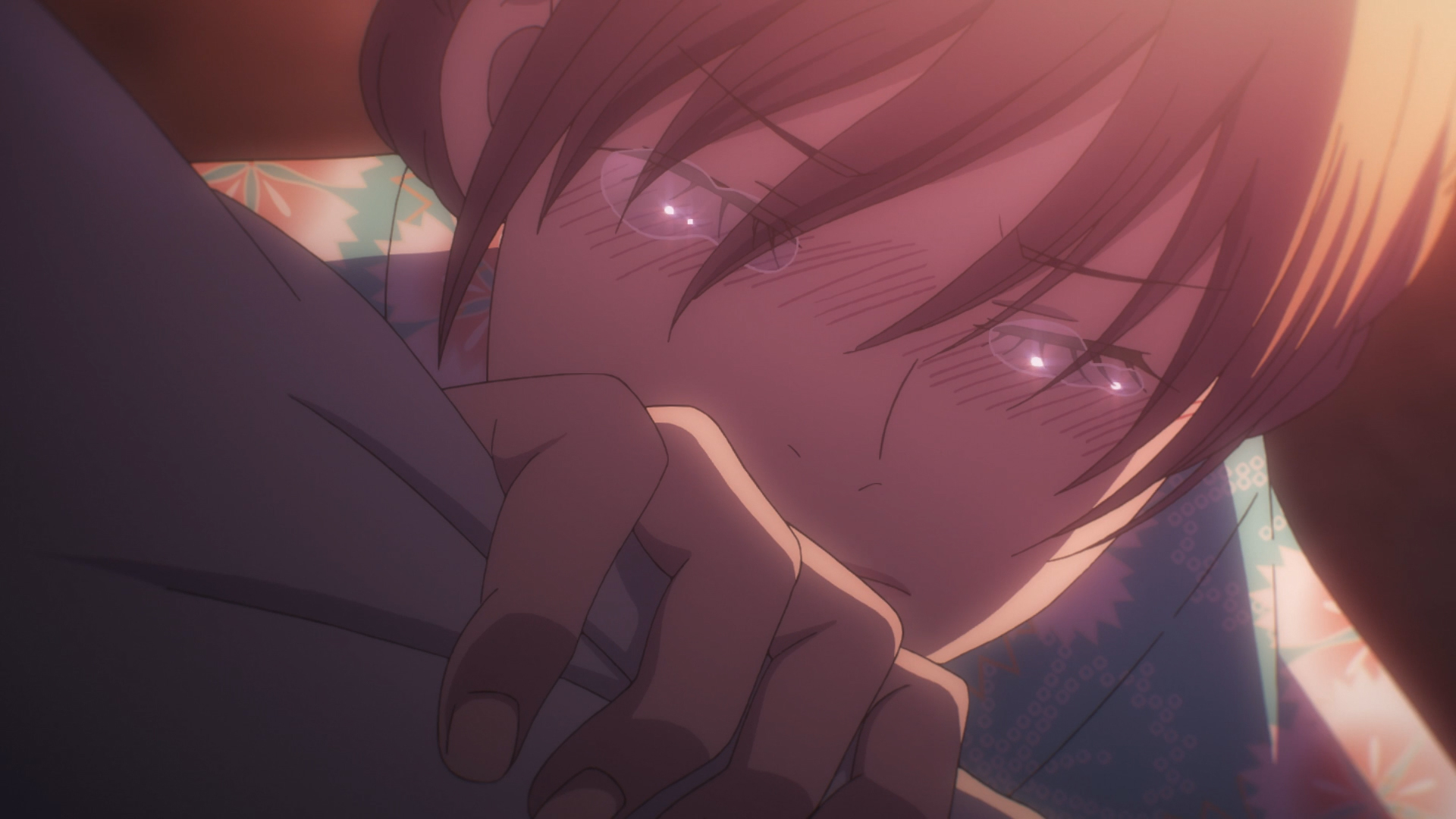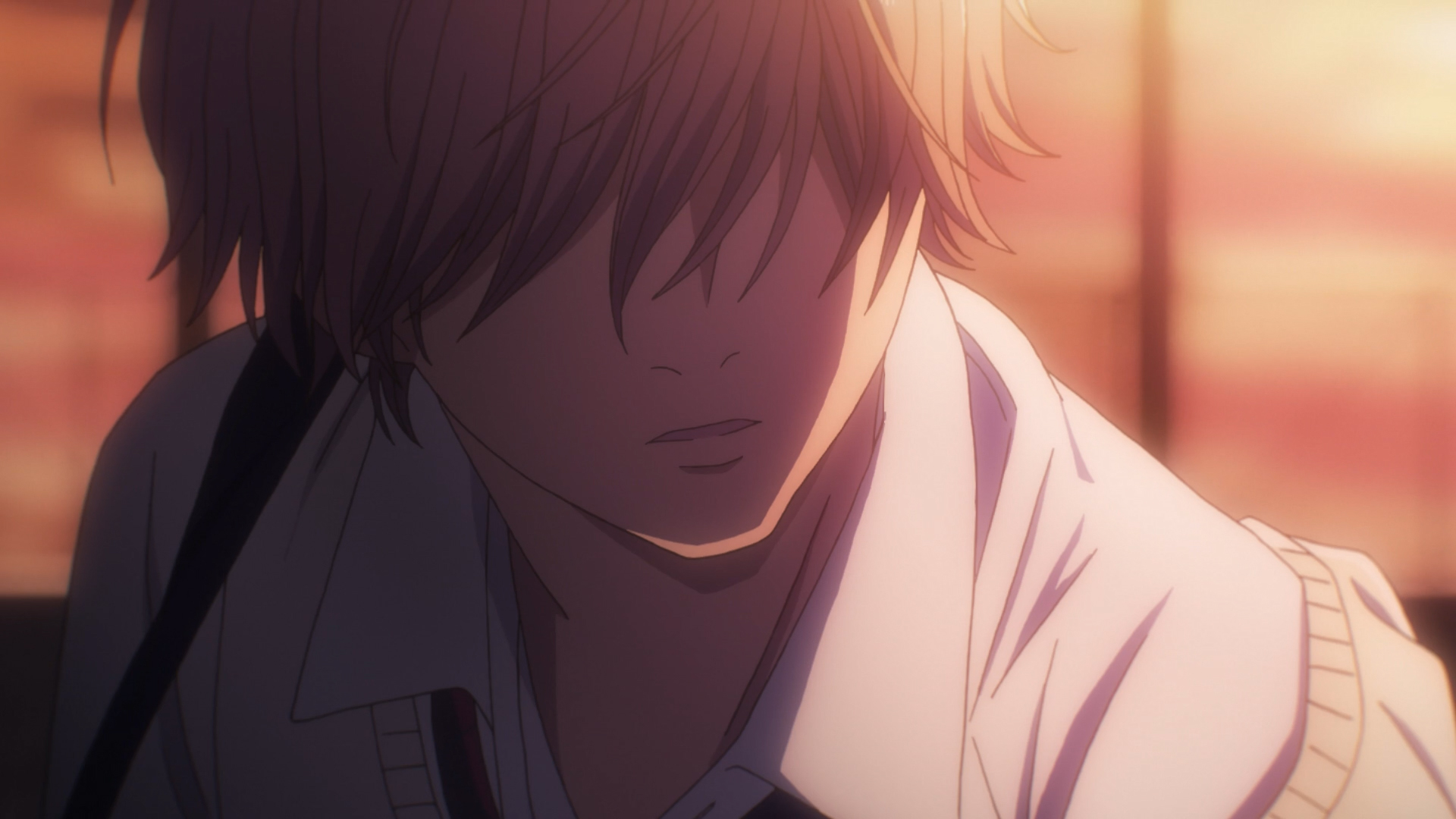 When he instinctively holds her close to kiss her, she remains paralyzed and stiff. Taichi understands that Chihaya, although genuinely desperate to lose him, is not in love.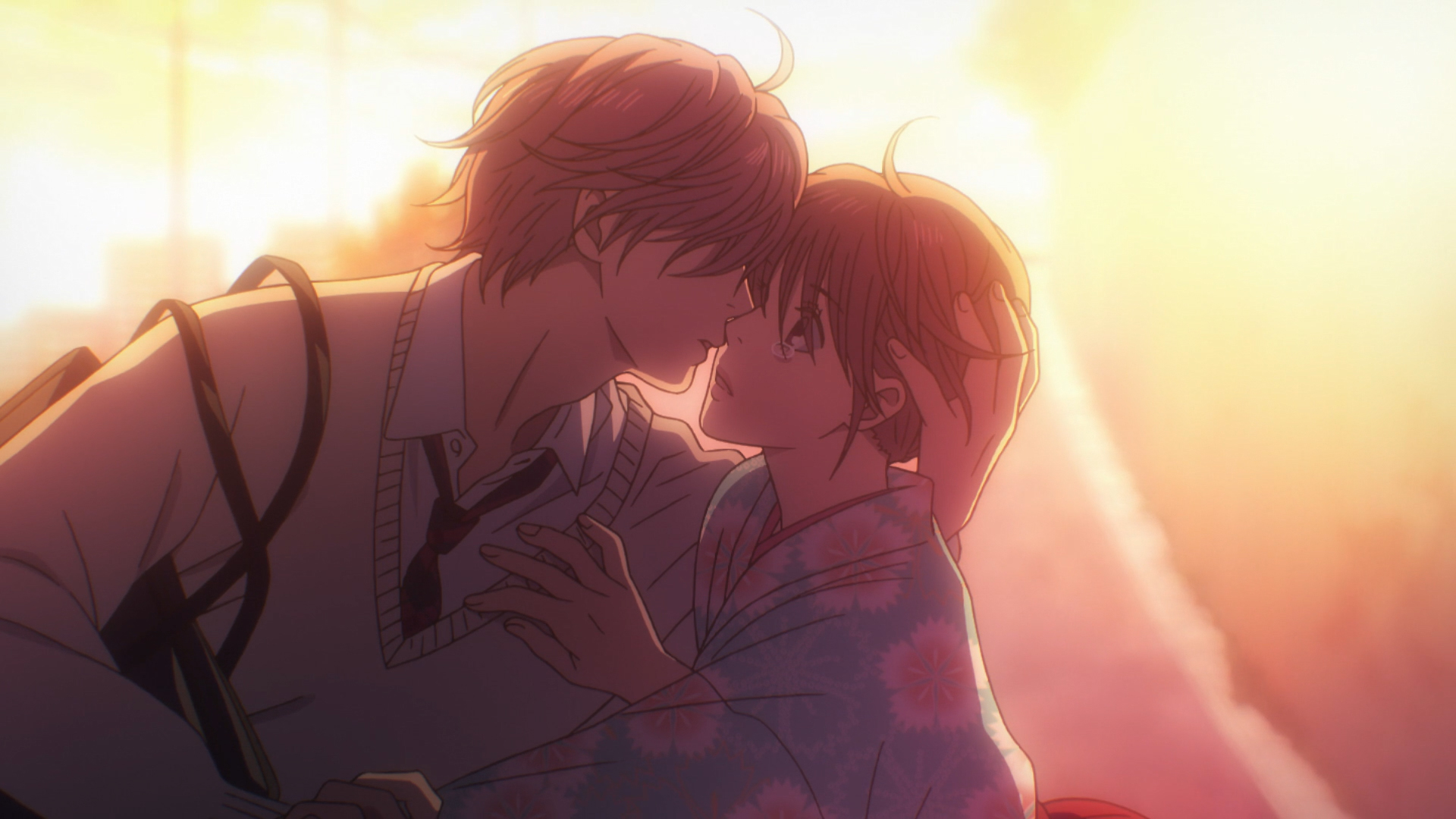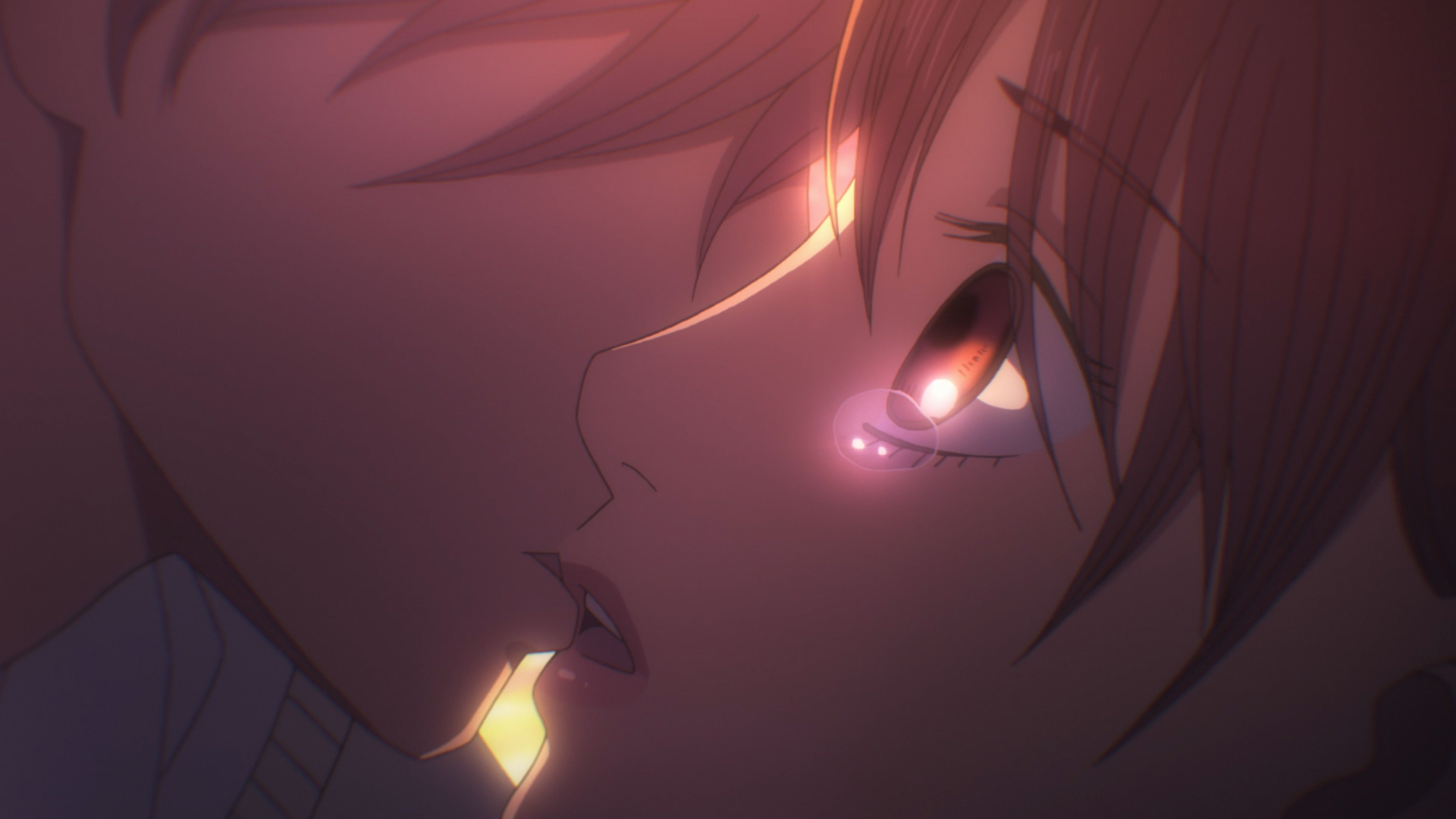 He cannot bear being on Chihaya's side when his feelings aren't reciprocated. And, without Chihaya, Karuta itself has lost any meaning for the boy.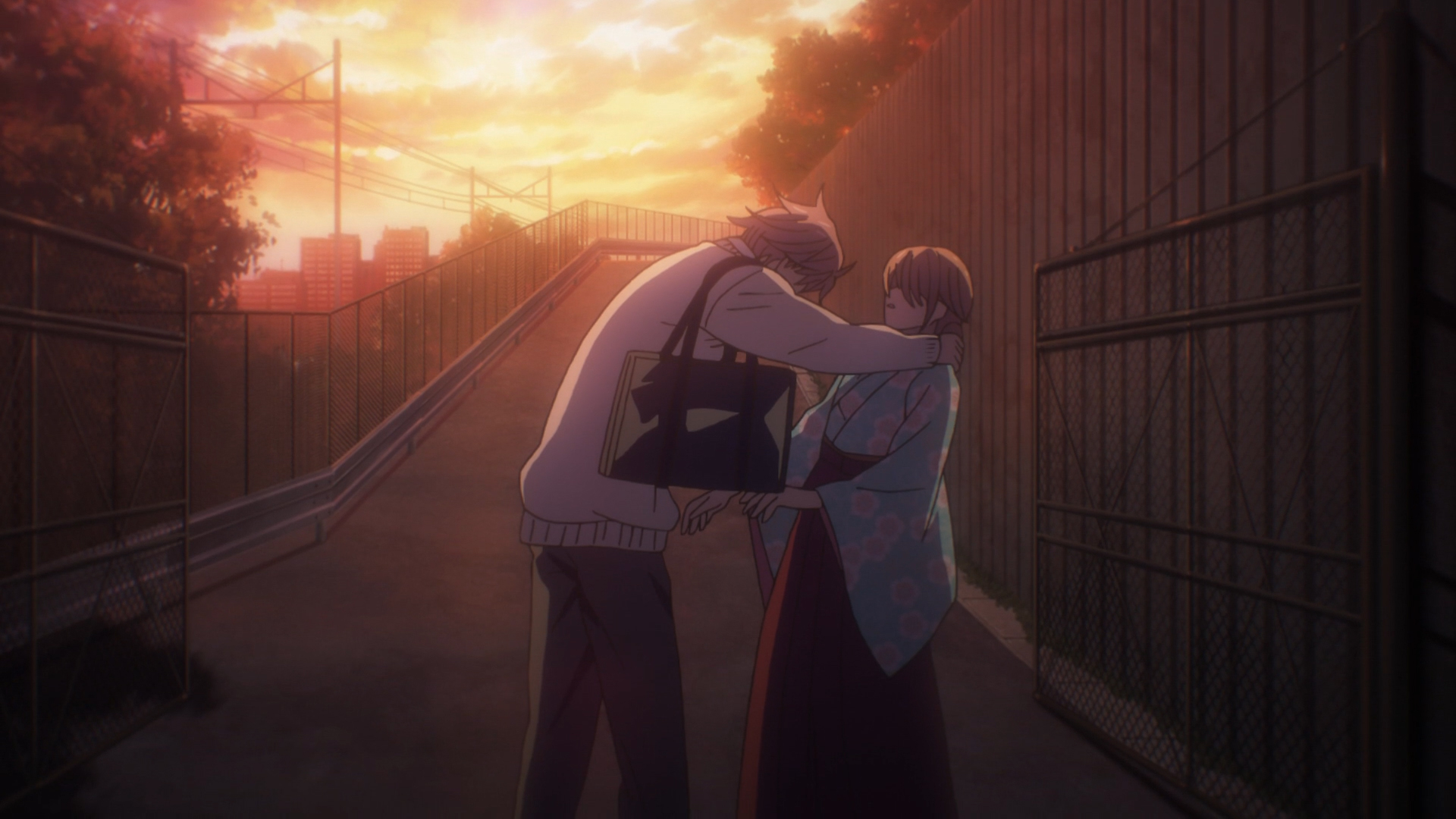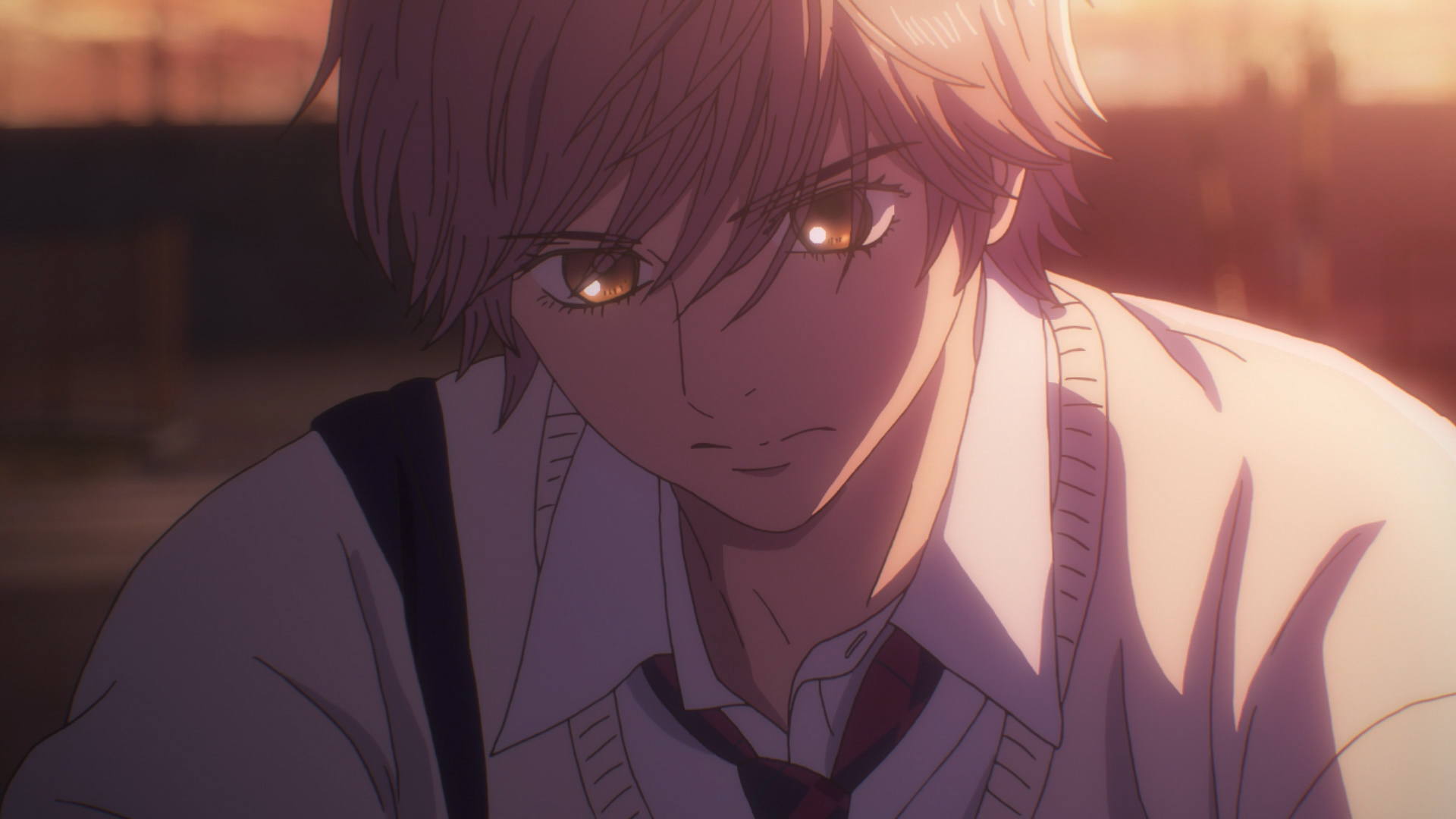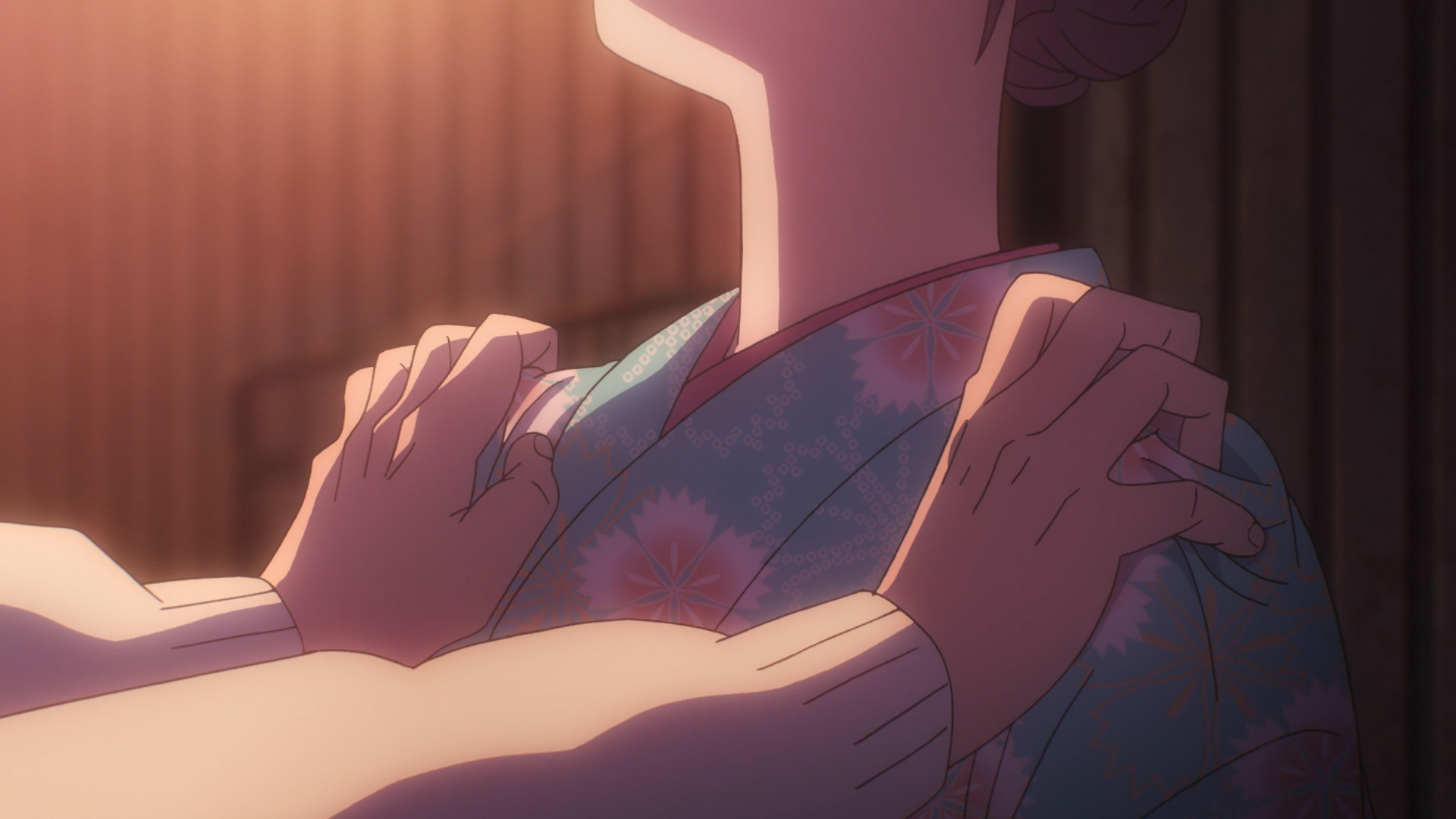 It seems like everything will change for the main characters, now. Arata is about to move and reach Chihaya and he has confessed his feelings to her as well, although the girl has not given any answer yet.
Arata's confession "if you want, let's play Karuta together" sounds, for both him and Chiahaya, like "if you want, let's live our lives together".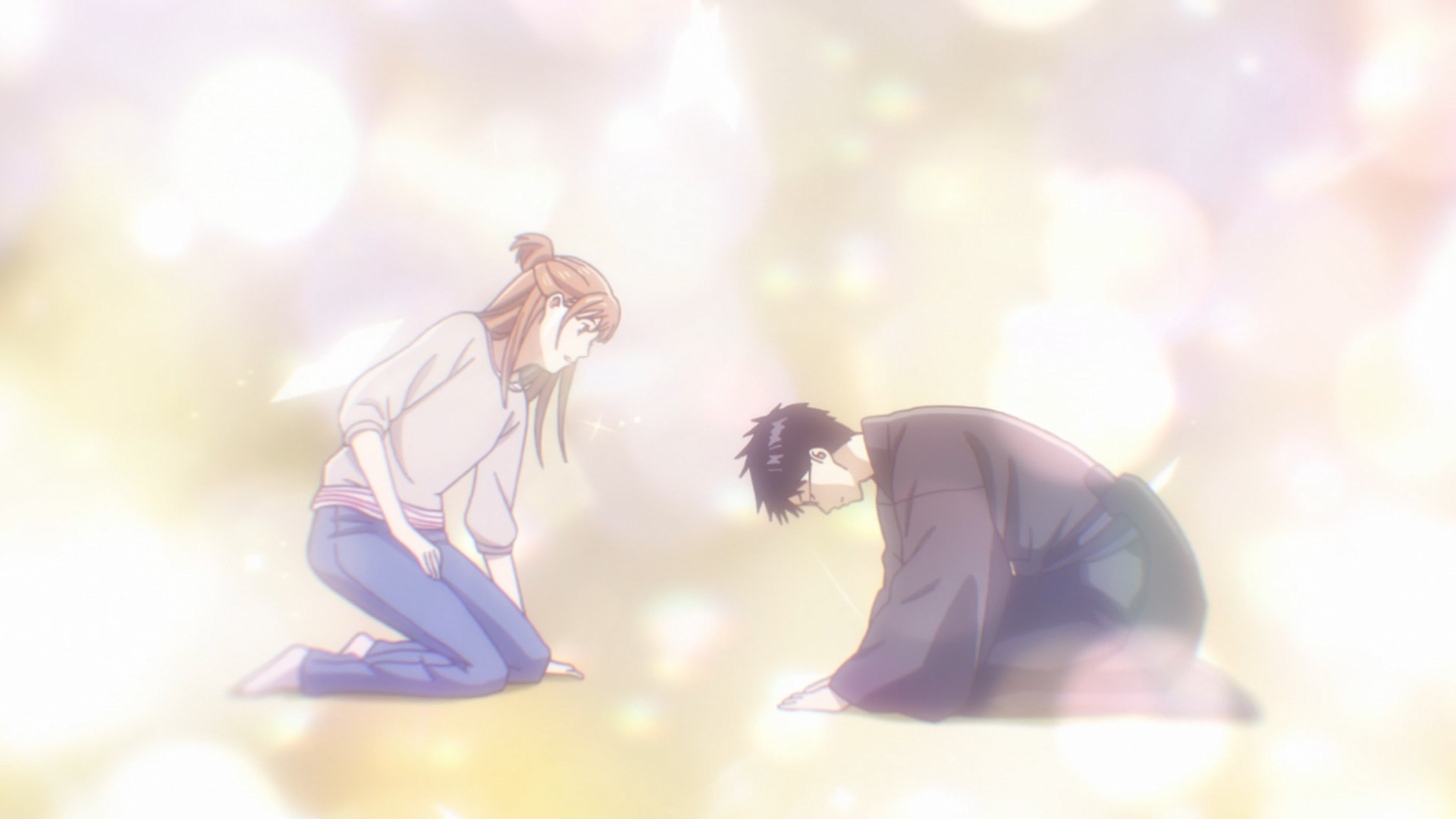 If it'is true that the absolute protagonist of this anime is the game of Karuta, I wonder, however, if it's really in the author's intentions to show that Chihaya herself begins and ends with this sport.
Arata and Chihaya undoubtedly share the same burning passion for Karuta, but, as many fans have often pointed out, Arata had been away from the girl's side for years. And I'm not fully persueded that the mere fact of being two passionate champions, make the two of them meant to be a couple in life.
I don't want to reduce the discussion to the trite "Taichi vs. Arata" debate, because it is evident that in Chihayafuru there is much more than a love triangle. However, like most fans, I can't help wonder what the author's real intentions are.
I never ever found it so difficult to make predictions about the epilogue of an anime (Who will win the Meijin title? And who will win Chihaya's heart?)
Long story short, I think the possible upcoming epilogues are the following:
Hypothesis A) Arata wins the title by defeating Suo and fulfilling is grandfather's desire. Also Arata has Chihaya by his side while Taichi lives a successful life (certainly having no problem in finding a girl who really loves him –Sumire or anyone else-.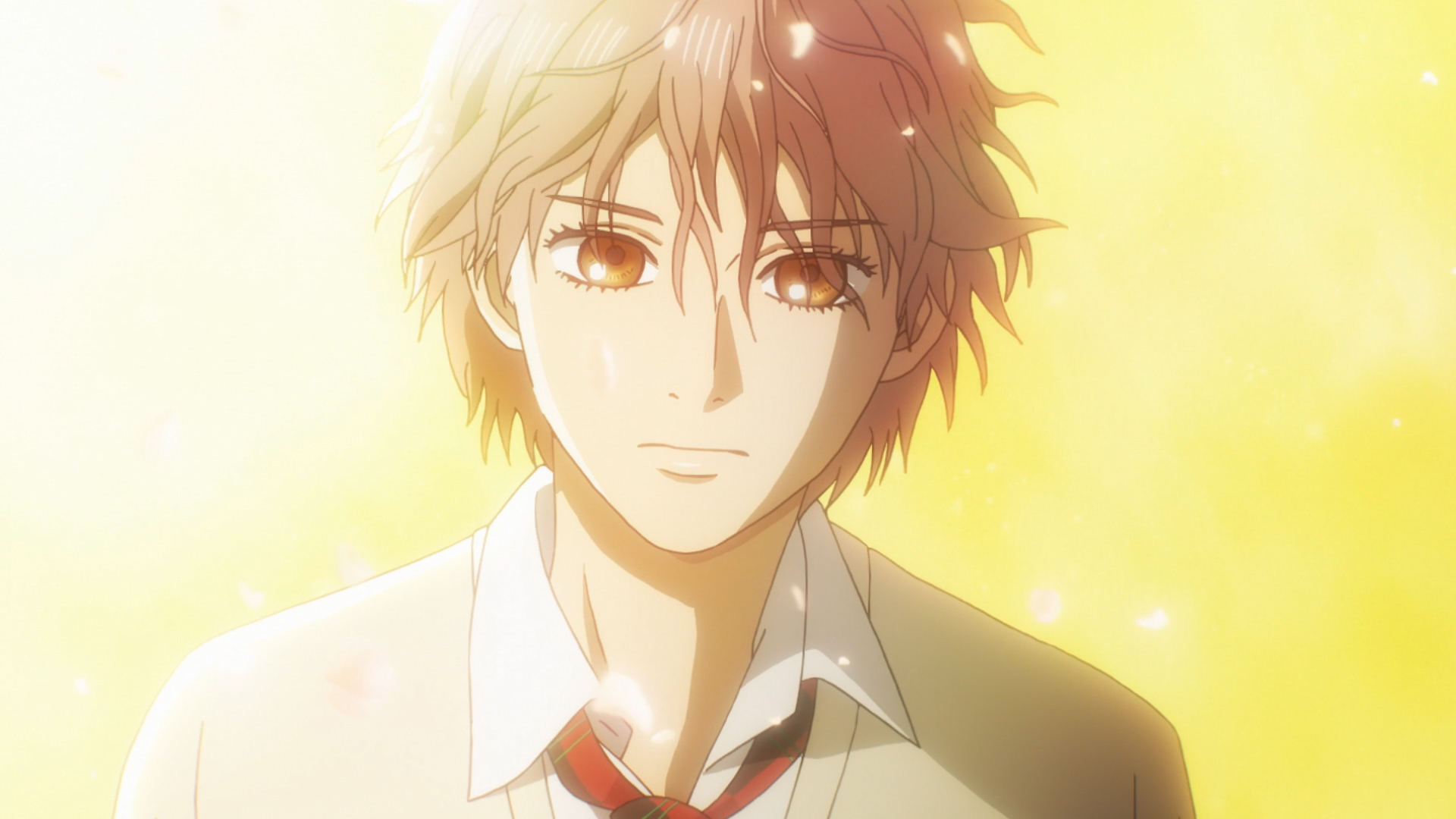 Hypothesis B) Arata becomes Meijin. Taichi cannot beat his rival but Chihaya understands that Love and Karuta are not the same and choose to be Taichi's girlfriend.
Hypothesis C) Taichi defeats his inner demons and come back to play Karuta, eventually managing to win the title of champion. Arata must accept the defeat but consoles himself with Chihaya's love which makes him appreciate the beauty of life, even outside Karuta.
Hypothesis D) Regardless who becomes Master, Chihaya will take her time to find her way in life and does not accept the love of any of her two best friends.
Each fan seems to have his own prediction but I believe each of these assumptions is equally plausible.
For my part, lately I wouldn't mind seeing C): Taichi as Meijin and Arata with Chiahaya. This ending would seem to coherently complete the inner growth of both male characters: Taichi finds the strength to overcome his limits just where he seemed to have no hopes while Arata opens his heart to the outside world.
However, among these 4 hypotheses, the only one which would finally foresee a personal evolution of Chihaya (the real protagonist) is B).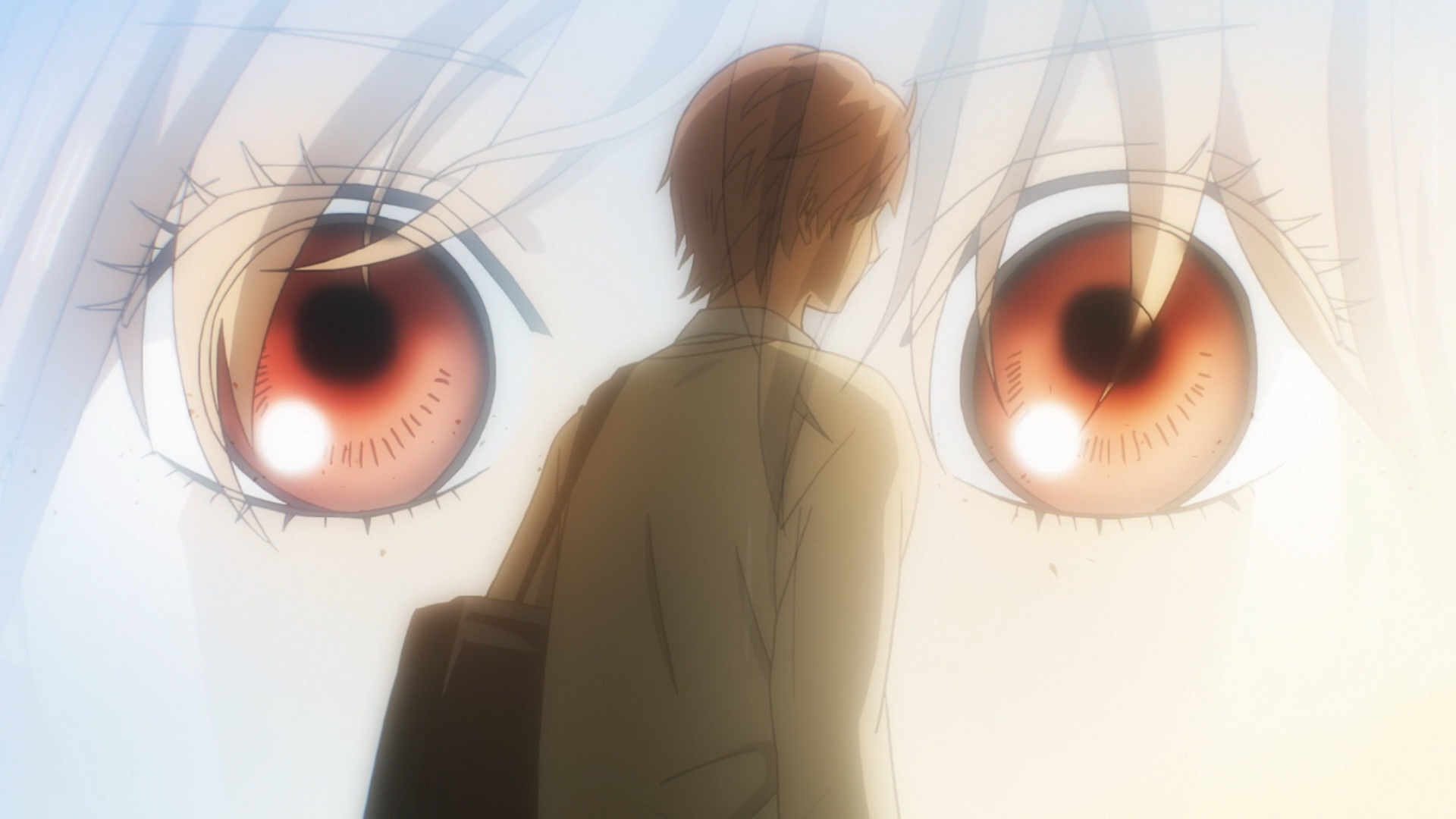 If imagine an epilogue where Karuta ceases to be "a final goal", to Chihaya, and becomes "a means" (not the only one) to achieve happiness, then I tend to think that Chihaya will eventually understand the importance of Taichi's presence at her side. Whether he is a Karuta god or not.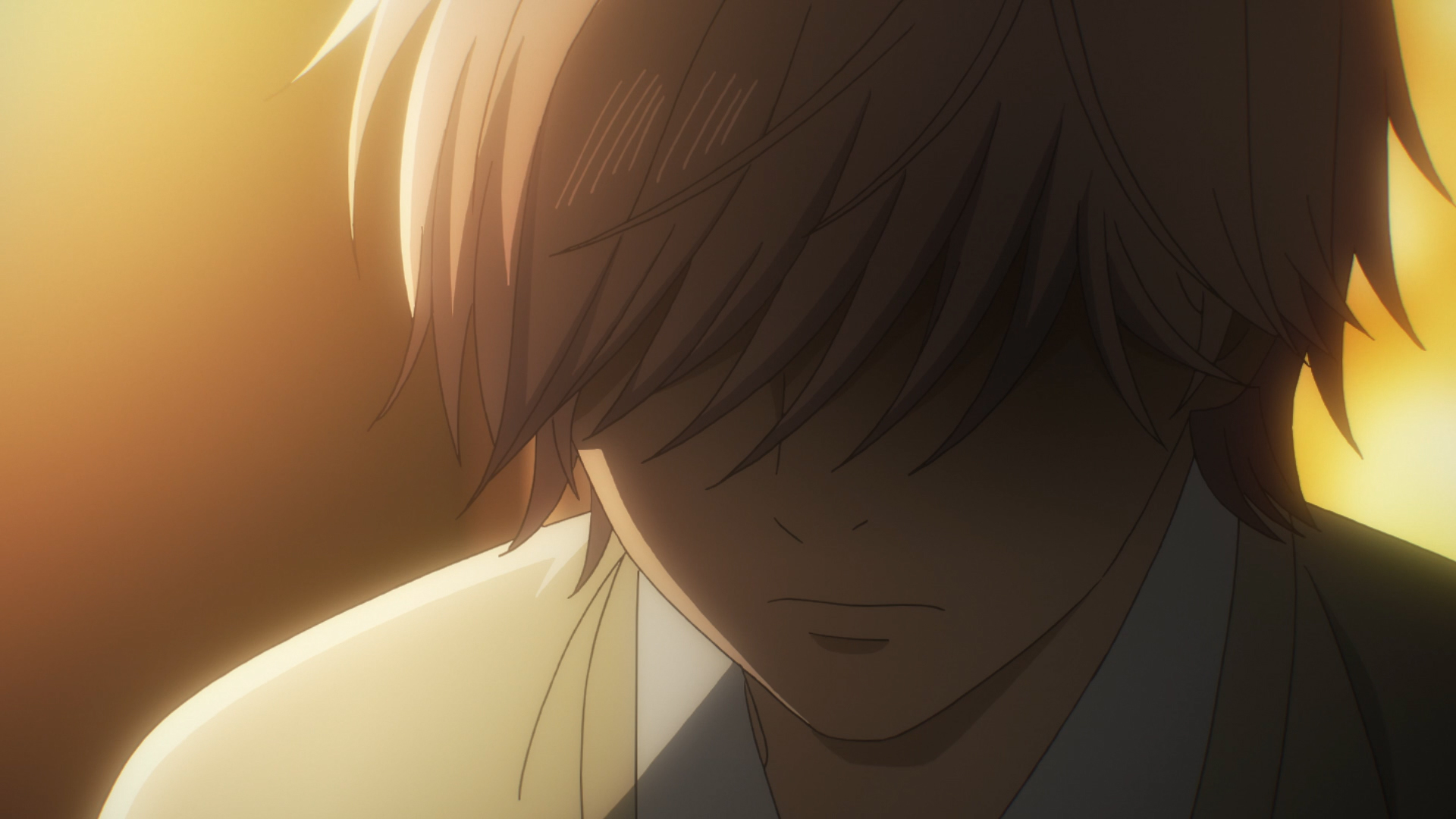 Of course Arata was the one who promoted Chihaya's passion for Karuta (he's the spark that started the fire of the the whole story) and he is just the kind of shy guy, deep and modest who, in anime, often have the upper hand over the most distinguished rivals.
Taichi, on the other hand, by Yuki Suetsugu's own admission, was born as a supporting character who just "get out of hand" to the author, growing up in the story almost of his own will.
He starts, in fact, as the rich and spoiled guy who is accustomed to excelling.
However it is undeniable that, so far, he has been at the center of the stage (counting his presence in the story alongside Chihaya and considering his personal evolution that has basically overturned the stereotype in which he seemed imprisoned) much more than the designated hero, Arata.
Fans appreciated the awkward sweetness of Arata's confession to Chihaya, yet, I wonder: how can one deny the narrative and emotional power of Taichi's own love confession? Why do the pains of a simple supporting character end up marking the emotional climax of the whole story?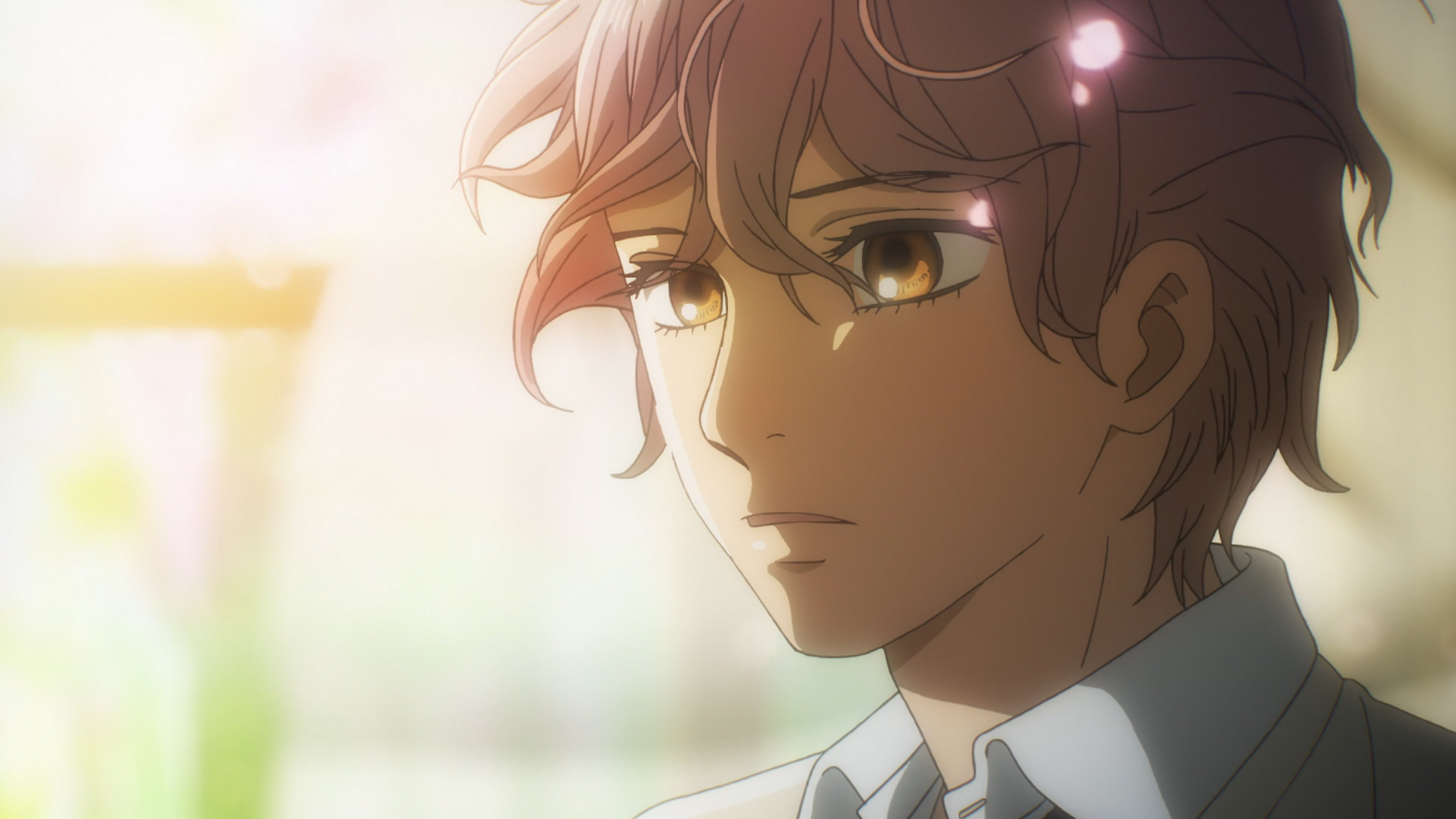 The author loves Taichi, there is no doubt about that. Just think of how many times we have listened to his inner thoughts and how we all know Taichi's deep feelings and doubts much better than those of Arata or even Chihaya.
Will Suetsugu really have the courage not to give this character, on whom she spent so much, the love story with her lead character?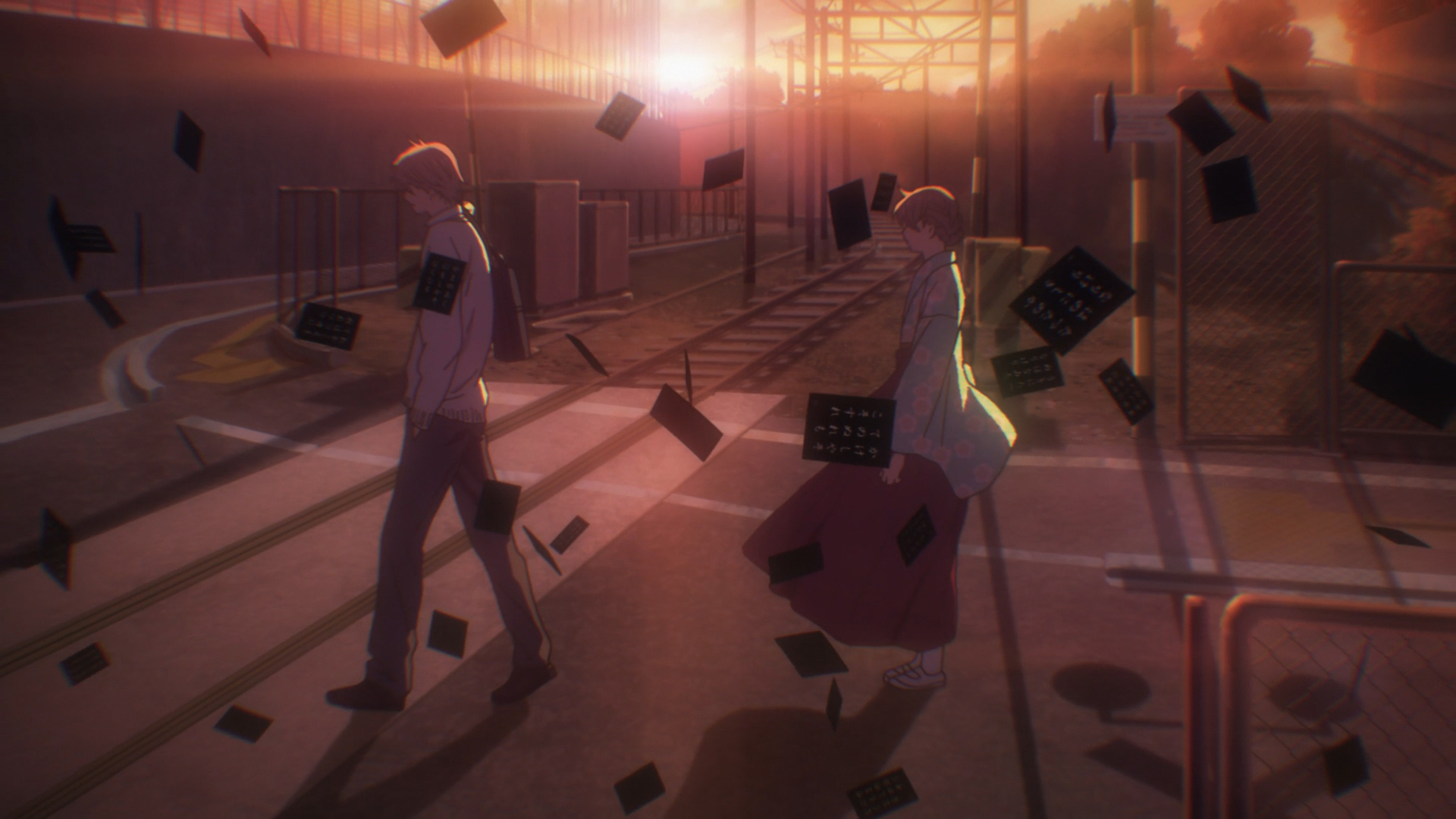 If you feel like it, let me know in the comments what you think.
I only ask you to please avoid spoilers for those who, like me, have not read the manga and only follow the anime.
Thanks for reading, bye!