Today we'll deal with a topic that is very dear to all of My Hero Academia fangirls (me included) : the Bakugou and Uraraka ship .
In case someone still doesn't know, shipping two characters together means wishing for a (potential) love story to blossom between the two of them. It's something very typical in any existing fandom. It is not even necessary that the two guys do have a relationship, eventually. Actually this rarely happens. Usually, the more unlikely they are as a couple, the more they they tend to be object of fantasies and fan-art by the audience.
When it comes to My Hero Academia, the most debated couple among fans is the one (virtually) formed by Katsuki Bakugou and Ochaco Uraraka .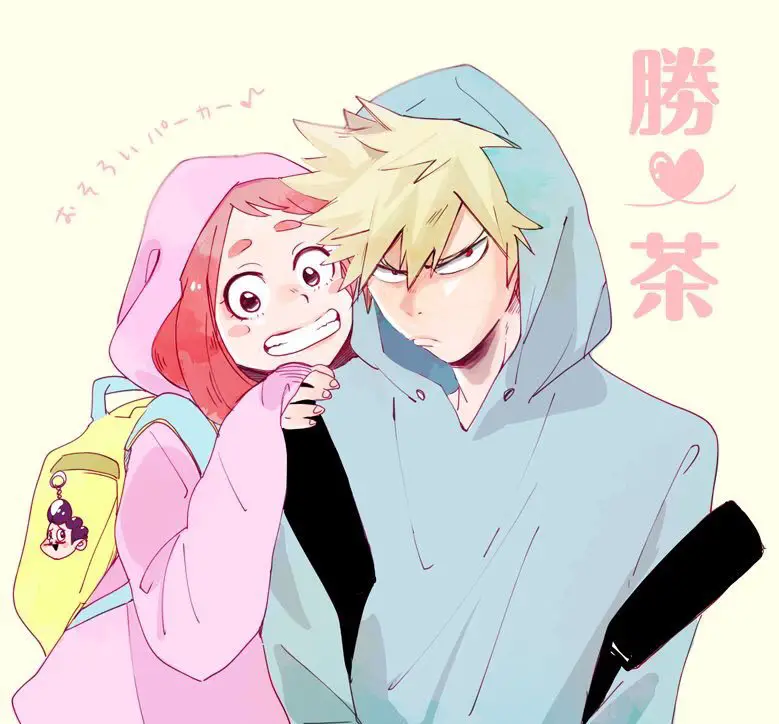 Part of the fandom passionately supports the two of them together, while the rest rejects it with equal intensity, coming to blame publicly the creation of images, fan-fictions or fan-videos that put together short-tempered Kacchan and sweet Ochaco .
Like it or not, the amount of fan-art about this "pair" that one can find on the web is staggering. And that's why it's worth to look further at this . Where did the idea of ​​a "Kacchako" come from ? Is it totally groundless or is there a chance for the couple Kacchan / Ochaco to become canon (i.e. official)?
Is there chemistry between Bakugou and Uraraka ?
It all started with their face-off in the final stage of the Sports Festival (in My Hero Academia season 2). Uraraka was initially terrified by the idea of ​​facing the strongest and most ruthless amongst the heroes of class 1-A , yet she summons up all of her courage and motivation and takes the field ready to give her best.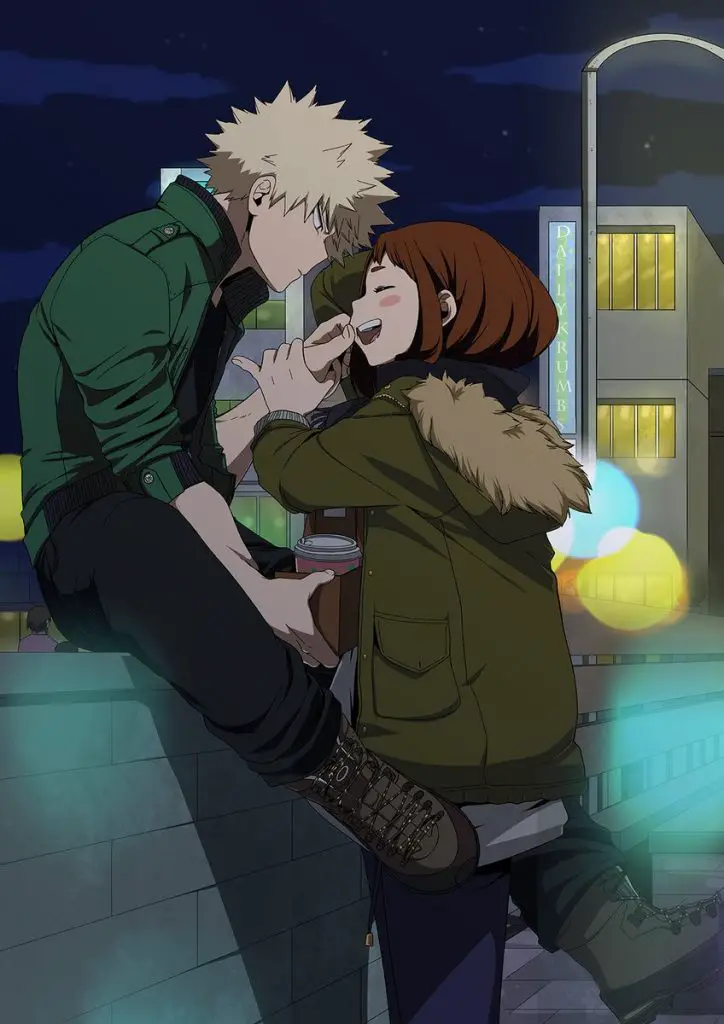 The battle of Quirks between the two is undoubtedly one of the most exciting chapters of the saga. Powerful Kacchan, who manages to end up victorious, is nonetheless forced not to spare himself to keep up with Uraraka . During the challenge, he recognizes her partner as a worthy rival, ​​someone who is anything but frail and weak.
Bakugou , the hero who respects nothing and no one, so much so that he doesn't even bother to learn the names of his classmates addressing them with hasty nicknames, eventually turns to Uraraka calling her with her true name. A privilege that did not go unnoticed among fans. A demonstration of undeniable consideration.
In their physical confrontation, the fans seem to have read something very sensual . It is difficult to say whether this was actually in the authors' intentions, but undoubtedly, they both put a lot of passion into it!
Moreover, throughout the story, it becomes clear that Uraraka is one of the few (along with Midoriya and Kirishima ) who seems to understand Bakugou , his feelings and his weaknesses. Proof of that is the episode in season 3 where Deku , Todoroki and the others plan to free Bakugou , kidnapped by the league of Villains and All for One. On that occasion, it is Uraraka who objects that the boy, being overly proud, would not be happy if his companions were to save him.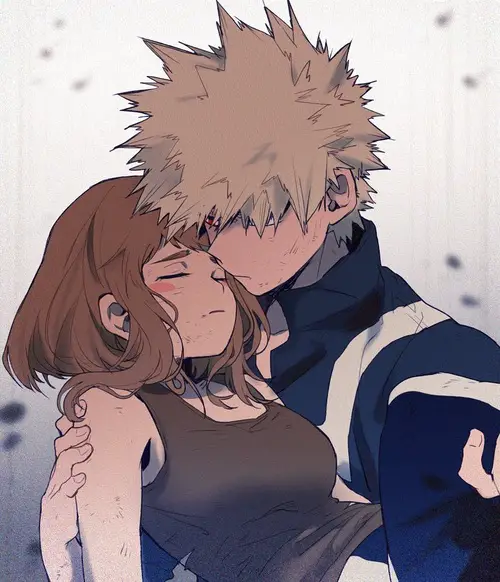 Kacchan and Ochaco: Why do we like them together?
You know: the opposites attract each other. "Kacchako" is not (it would never be) a boring sugary couple: the good girl and the bad boy … how to resist? And the alleged dysfunctionality of such a pair (the detractors insist that Bakugou would surely end up hurting her) seems to excite even more the spirit of the fans.
Moreover, it is undeniable that a love story between such different personalities (he being impulsive and brutal, she being girly and lovable) might exist and might also work, as demonstrated by dozens of fictional or real couples that each of us know.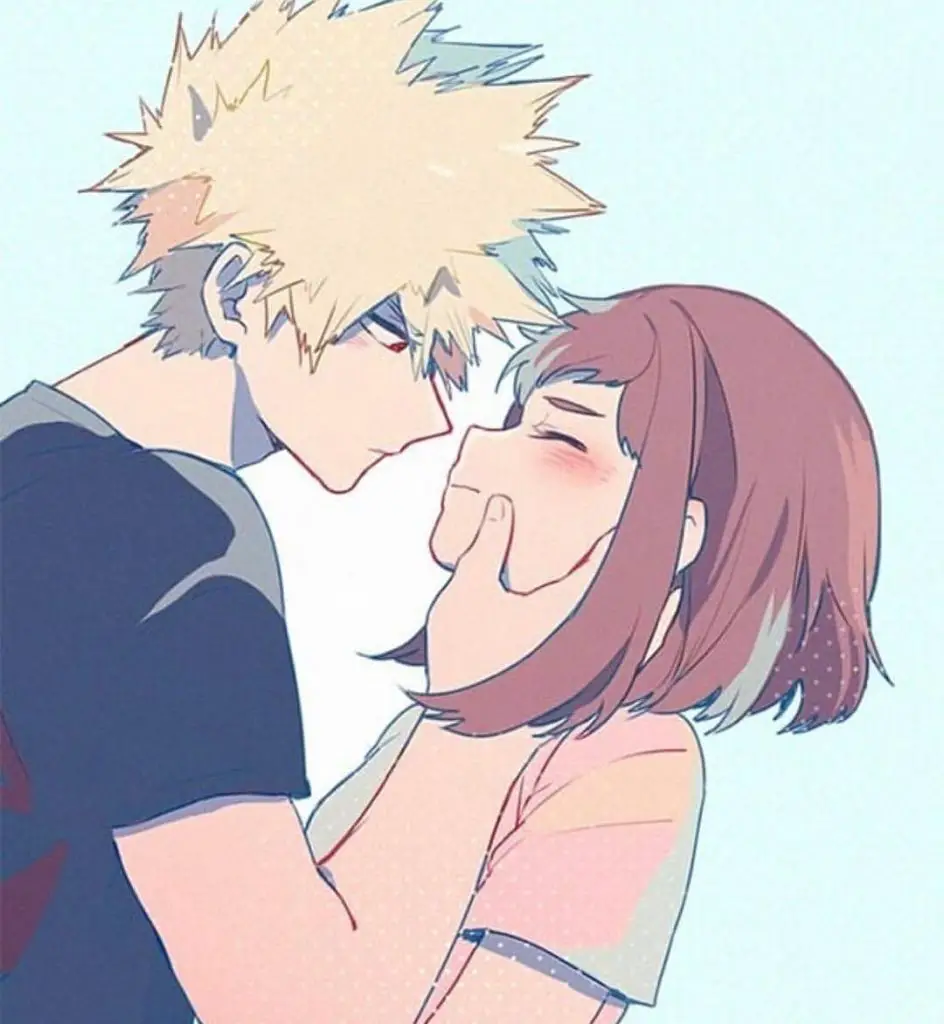 Finally, fans bring Bakugou's parents to support their ship : a very energetic and bad tempered mother and a gentle and quite father. If it worked for them, it will also work for Kacchan and Ochaco, right?
If sweet Uraraka would be a suitable partner for most of her schoolfellows (not only Deku and Bakugou but also Iida), who else – if not her- could you imagine as the girlfirend of bad-tempered Kacchan?
Why does the Kacchan / Ochaco couple have so many detractors?
The most radical opponents of this couple do not see Bakugou as a angry but good-hearted tsundere. They consider him a violent bastard and denounce the risk that he can hurt, in different ways, poor Uraraka .
Above all, they try to silence those who love to fantasize about this couple with this: Ochaco has a crush on Deku and the only love story that could develop within the saga is theirs.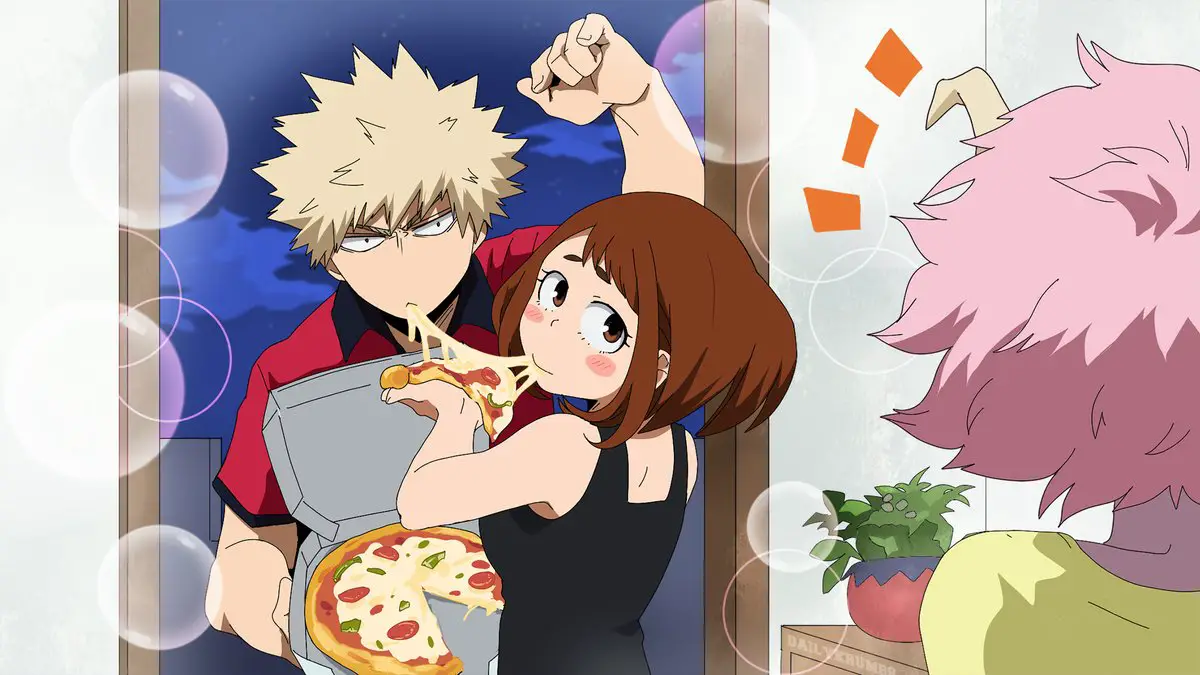 Fan-art and headcanons … that seem real
The Bakugou / Uraraka couple may not be in the authors' plans at the moment, but this does not stop the unleashed fantasy of fangirls.
In recent times, during the release of the feature film "My Hero Academia: Two Heroes", some almost-perfect (albeit fake) images and videoclips showing Kacchan and Ochaco sharing some moments together have spread through the web. Many believed they were actual scenes from the movie and hoped to watch them shortly afterwards on the big screen (some, on the contrary, publicly protested for the choice to create intimate moments for "Kacchako").
Actually, as we said, those were just fanmade extracts (although of excellent quality). In particular, the videos have been created by the webartist known as DailyKrumbs.
Take a good look:
In  My Hero Academia the Movie there is actually the scene of a gala night in which the protagonists wear exactely these clothes. You will not find this romantic dance between Bakugou and Uraraka though (unfortunately!)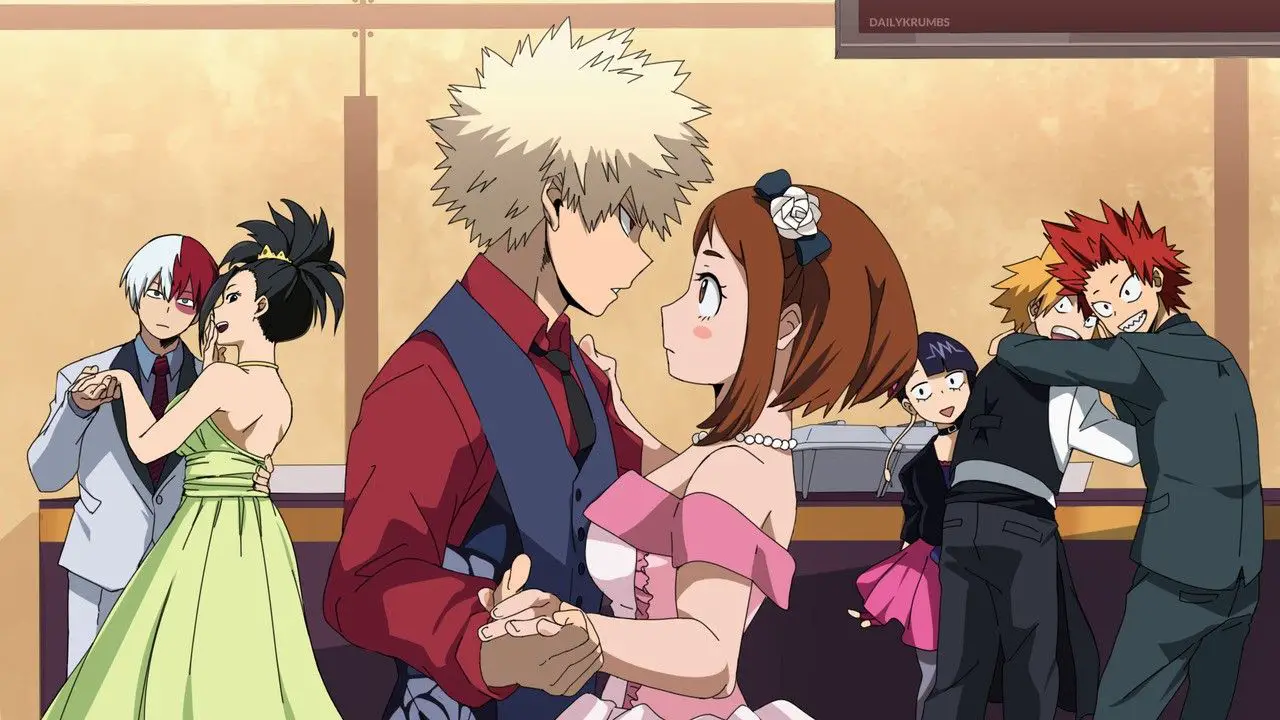 The scene below shows a combat training (or a re-match after the Sports Festival?) between Kacchan and Ochaco. It is perfect and suggests a closer relationship between the two. Too bad that it does not exist and that we will never see it in the anime.
And what about this fantastic crossover between "Kacchako" and another strongly shipped (but also hated) pair from Star Wars that is Rey and Kylo Ren?
Finally, what about this adorable "extra content" that was released last Halloween? It is so good it should definitely be canon.
Have you ever wondered how would a kiss among Bakugou and Uraraka look like? Our precious Daily Krumbs made it happen for real. Have a look at this animation on her twitter!!
So tell us: what's your opinion? Is Kacchan / Ochaco a yes or a no? (I personally love the idea!) Please let us know in the comments.
See you next time, bye!