Today, right after I launched CounterStrike: Global Offensive from my Windows 10 powered home PC for playing my usual match, I was welcomed with an odd popup message warning me about having XBox's GameDVR turned ON, which reportedly results into a severe performance drop. The popup pointed me to this post from the official Steam Support website, which explains how to turn off GameDVR option for good. Since I've never heard about GameDVR before I digged the topic, until I stumbled upon this other post from the PCGamesN website which explained everything even better.
To cut it short, we're talking about an hidden feature bundled with Windows 10 patch 1607, also known as Anniversary Update (which we reviewed earlier this year), which auto-enables Microsoft's Xbox-powered game recording software known as GameDVR. Problem is, it seems to cause some major issues with most games, especially those released by Valve such as CS:GO.
According to this Reddit post, we're not talking about something trivial: some users experienced severe FPS drops, as it seems to cut them to half of refresh rate (30fps for 60Hz / 72fps to 144Hz): such limitation can easily be quite devastating, especially for those into competitive games.
Luckily enough, turning it off is rather easy. It can be done in two different ways, depending if you have a Microsoft account (and the XBox App installed) or not.
Method 1: XBox App on Windows 10
If you have the XBox App installed, you can do the following:
Open Xbox app by clicking on its "tile" from the Start menu (or just search for it using Cortana or the standard Windows Search feature).
Sign in using your Microsoft account (it will be automatic if you use one to access your Windows system).
Click the Settings icon near the bottom left corner of the app main screen.
Go to the GameDVR tab, look for the Record game clips and screenshots using Game DVR option and turn it off.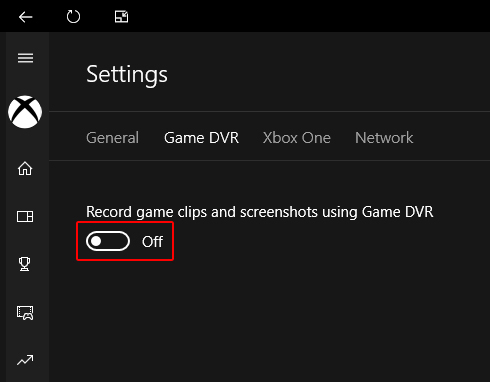 Method 2: Registry Editor
If you don't have a Microsoft account or you uninstalled the XBox App (which was what I did), you can still get rid of the GameDVR feature via the registry editor in the following way:
Open the Registry Editor (Start > Run > regedit)
Navigate through HKEY_CURRENT_USER\System\GameConfigStore
Look for a DWORD called "GameDVR_Enabled" and set its value to 0 (zero)
Navigate through HKEY_LOCAL_MACHINE\SOFTWARE\Policies\Microsoft\Windows\
Create a key and give it the name GameDVR
Create a 32-bit DWORD, give it the name AllowGameDVR and set its value to 0 (zero)
That's about it: happy gaming!