Are you looking for an easy and cheap Halloween costume being perfect either for adults and for kids? Want to create a quick cosplay for a group of people? Need to find a good idea for a 80's themed party outfit? Then this tutorial might be helpul to you.
Today we are making the Pac-Man's ghosts costume. More specifically, my daughter asked me to help her dress like Pinky, the pink ghost from the original 1980's 2D and 8-bit Pac-Man videogame.
There are no doubts this one is a very simple costume to make. No particular sewing skills are needed and this cosplay is totally cheap.
Pinky ghost costume is good for a single dress-up but also for a group cosplay as four different people can be Inky, Pinky, Blinky and Clyde, the full team of Pac-Man's enemies.
Let's see, step by step, how to make it.
As we are trying to reproduce a bidimensional character from a 2D videogame, the idea is to make Pinky's body as flat as can be. So we are going to make Pinky with a thick felt fabric (even cardboard would do, but I recommend felt as it is much more comfortable to wear). Then Pinky's costume will be wore like a sandwich, the front and the back being linked together with 2 straps.
[nextpage title="let's male Pinky the ghost with thick felt"]Let's start drawing
Pinky
's shape on the paper. The pattern must be big enough to be worn like a mini-dress.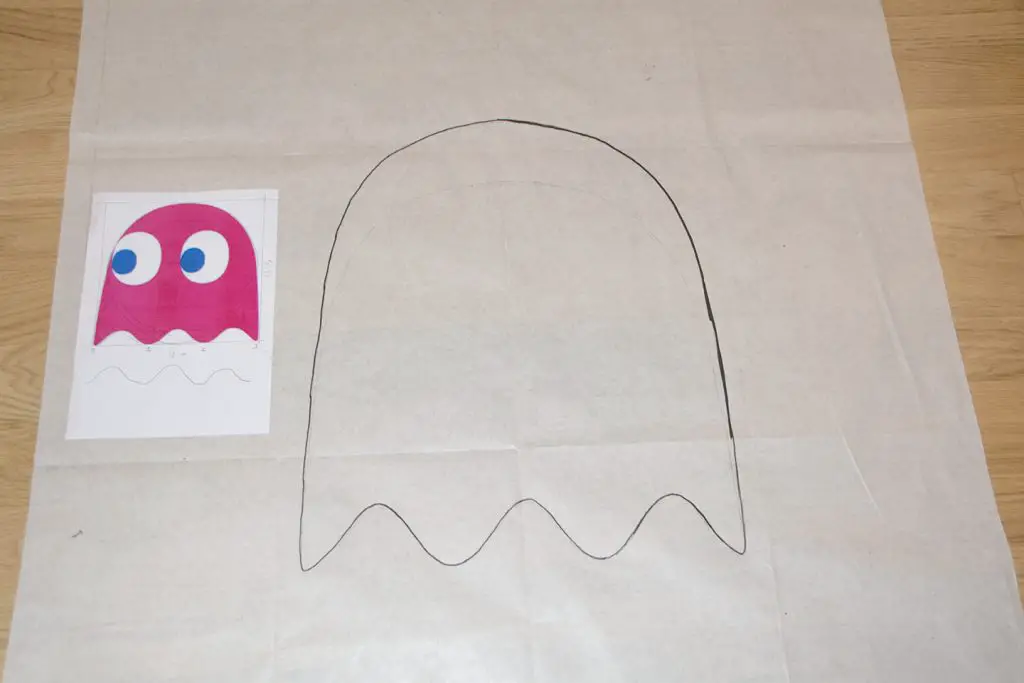 Draw Pinky's eyes as well. We are going to make them with soft felt.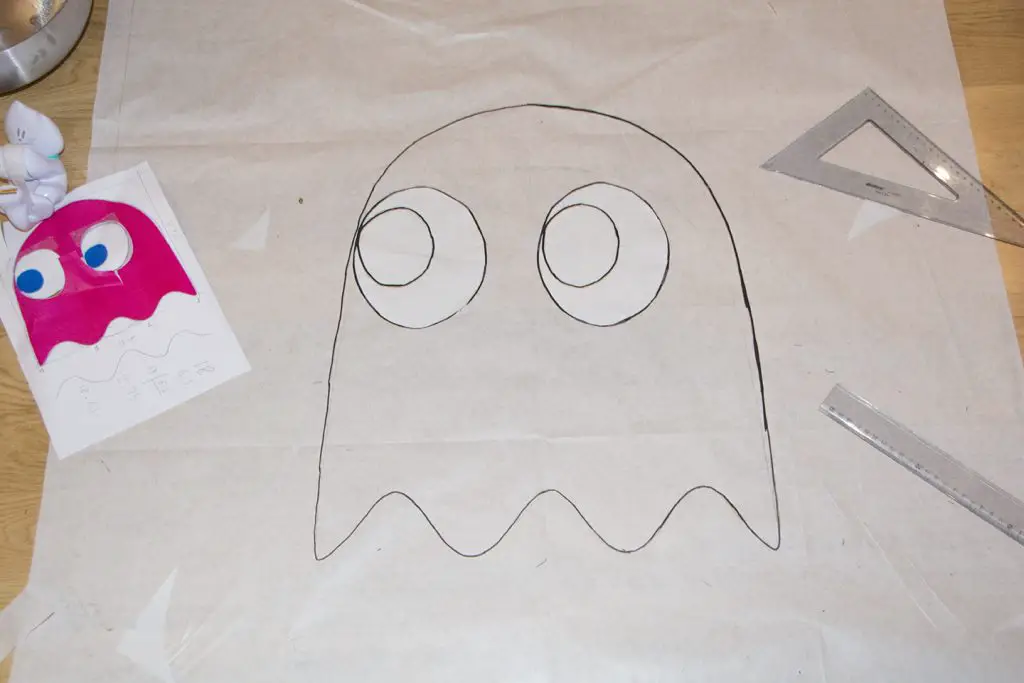 Here it is Pinky's shape (front + back) made of thick felt, pink of course.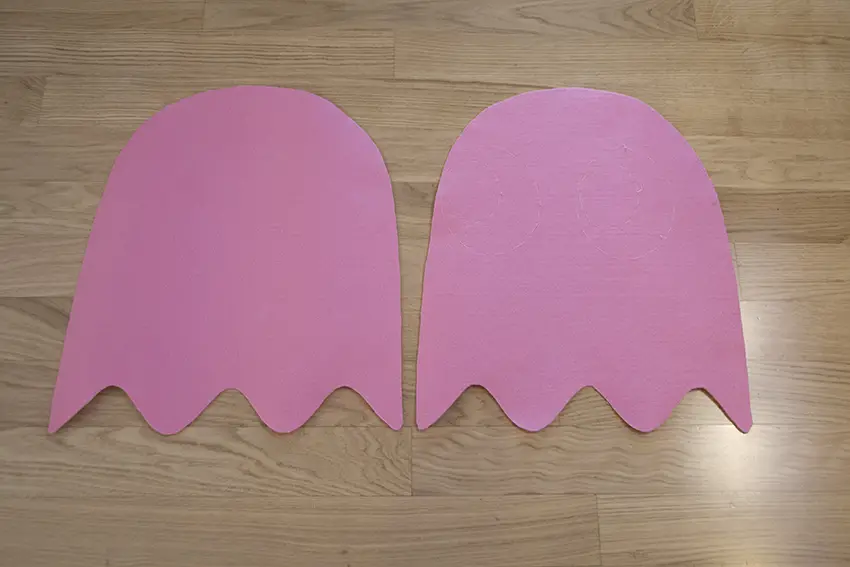 Let's sew the eyes (made of soft felt white and blue)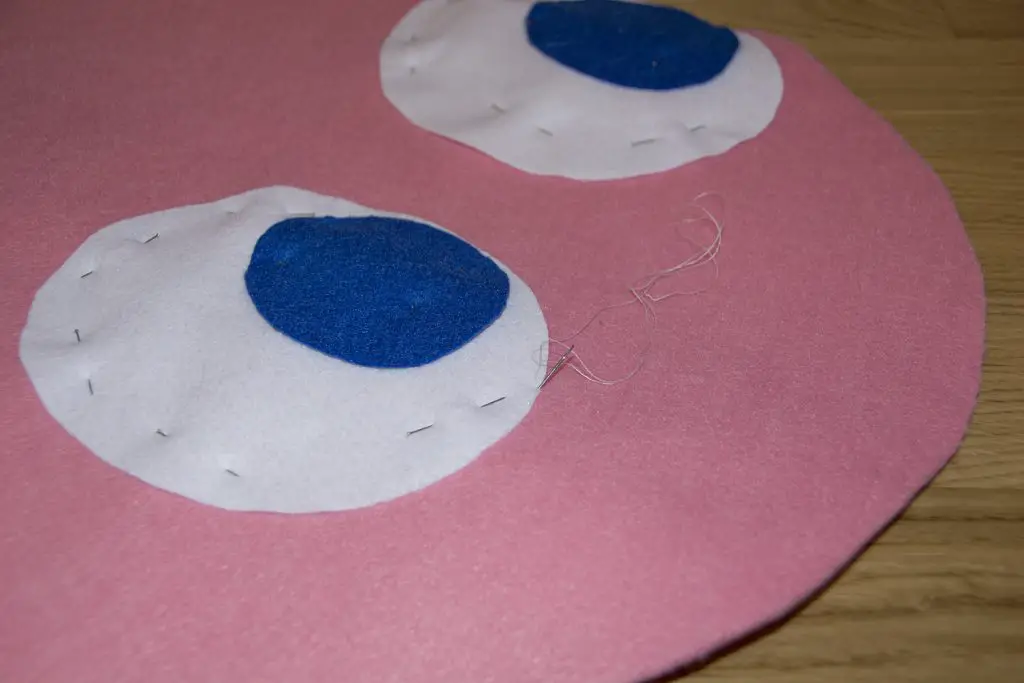 That's Pinky's body all finished. Easy, isn't it?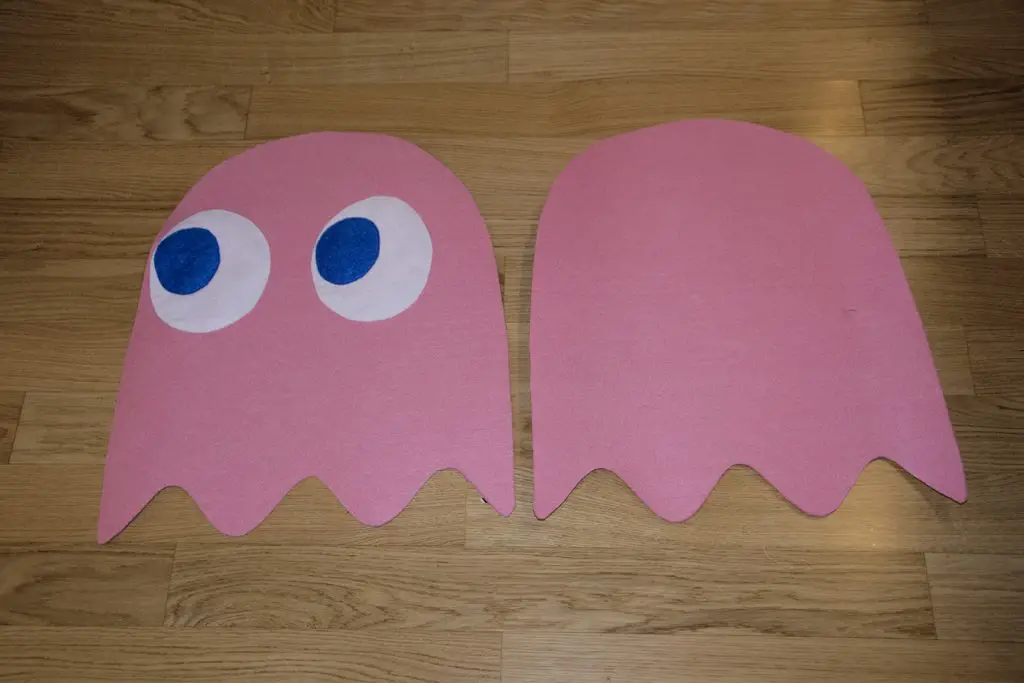 But we are not done yet! Continue reading for discovering the next steps…
[nextpage title="How to wear Pinky's costume (all the finishing touches)"]
Now let's sew Pinky's straps (they have to be black because they must disappear once wore on a black blouse).
Thanks to the straps, Pinky's body can be worn like a semi-rigid sandwich.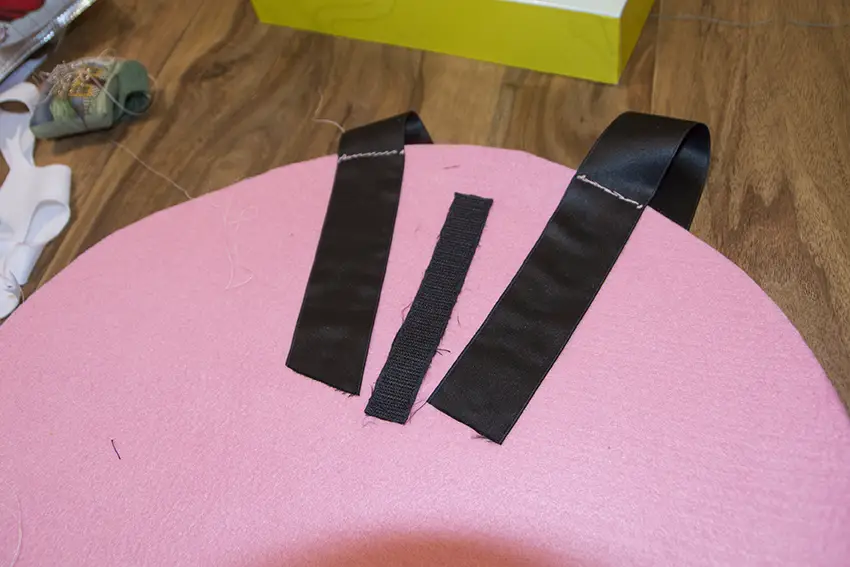 As you can see, we attached a piece of velcro inside Pinky's back. The other half of the velcro has been sewn on the back of the basic black shirt we will wear under Pinky's dress.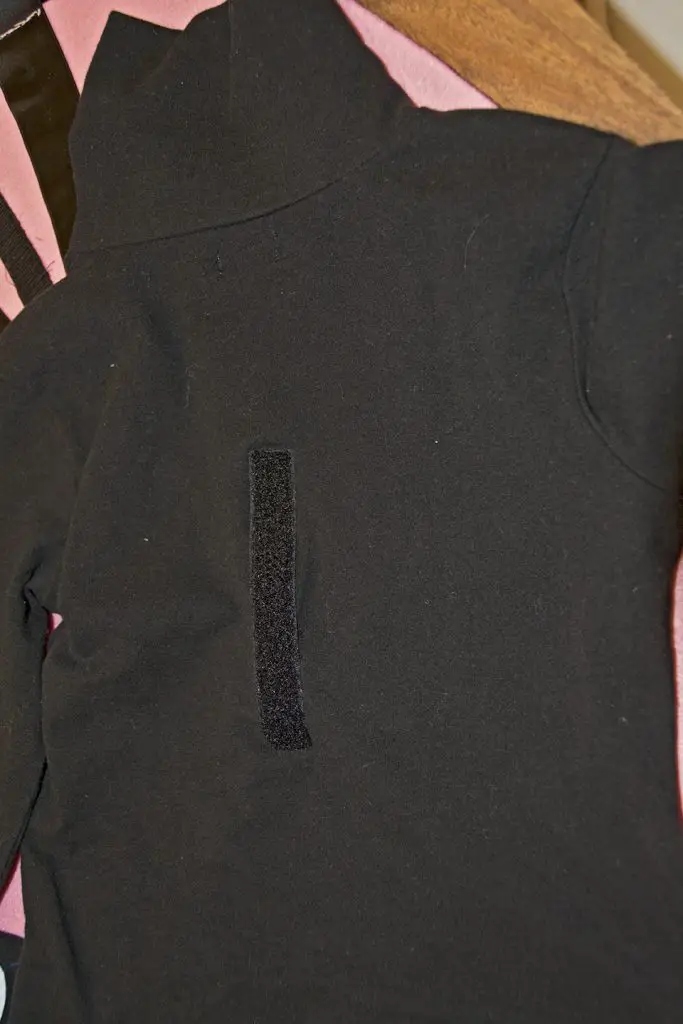 The velcro is not mandatory but I recommend to use it so that the sandwich stays in place when we move, or dance, or sit…
In the picture you can see Pinky's dress ready to wear, with straps.
But the costume is not yet complete…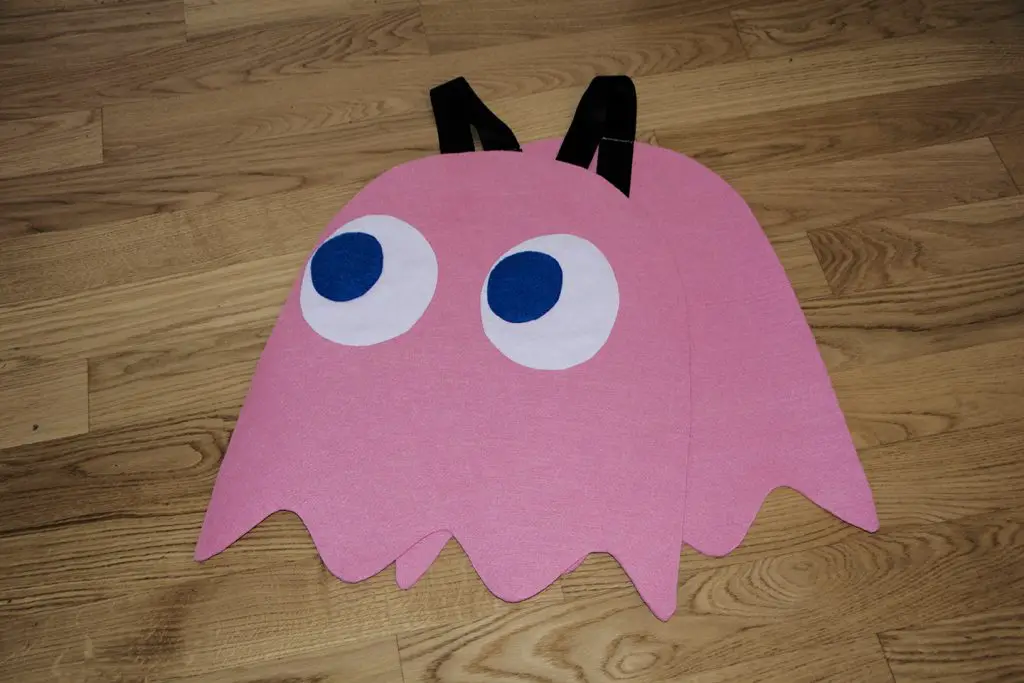 As Pinky lives inside a stage whose background is black and full of  white "pills", we want to reproduce the same environment with our dress.
That's why I suggest to wear a basic long sleeve black t-shirt and a pair of black leggins or trousers. Apply white discs all along the arms and the legs in order to recreate the "Pac-Man pills effect".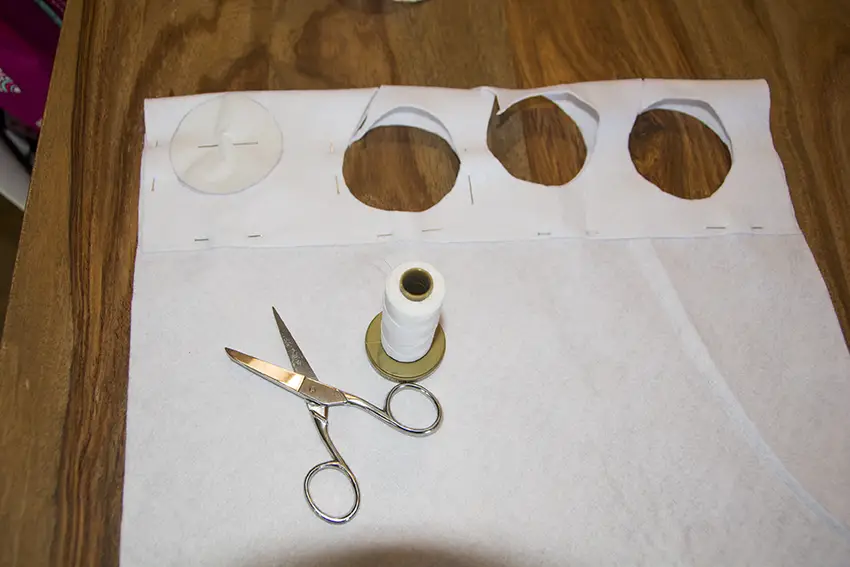 You can choose either to sew or to glue the discs on the fabric.
As you can see in the following image, there's one pill missing on the left sleeve. Why? We are going to reveal it soon…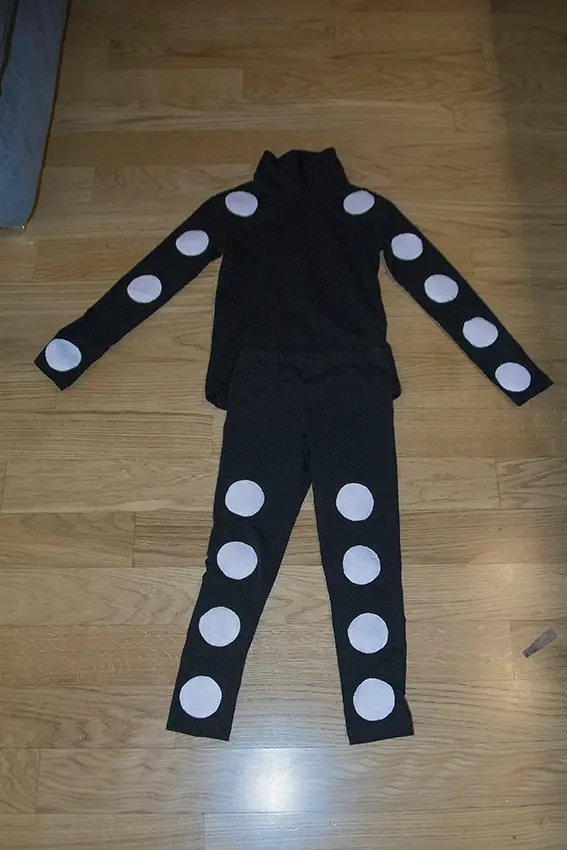 [nextpage title="Introducing Pac-Man running away from the ghosts"]In order to complete
Pinky
's environment, we must now introduce
Pac-Man
itself! As
Pac-Man
is on the run from the ghosts meanwhile it eats the pills, we'll make
Pac-Man 
a wristband running along our arm!
Our Pac-Man is made of thick yellow felt. We'll use 2 round shapes glued together, so Pac-Man will be perfecly flat and stiff. Before gluing the 2 halves, let's insert an elastic band inside one of the Pac-Man shapes.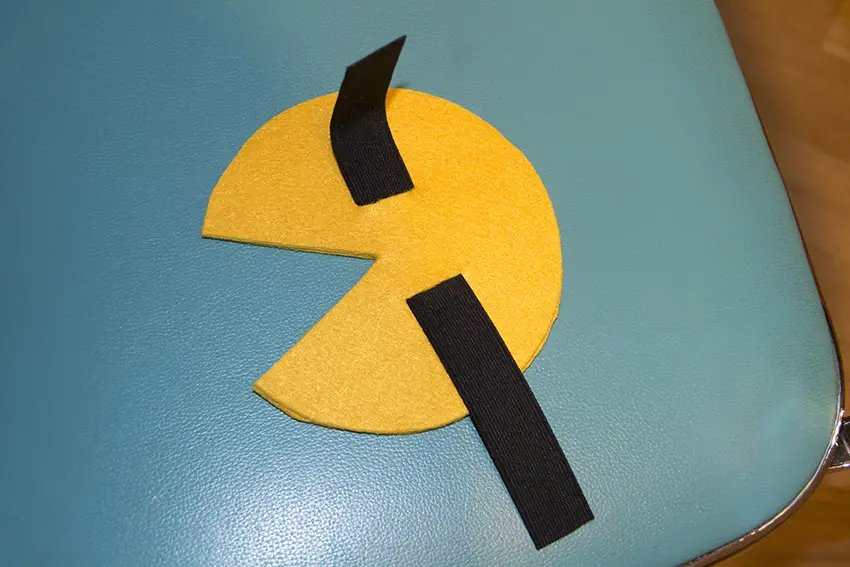 After gluing the 2 halves, let's sew the elastic band and let's get our Pac-Man wristband. Our Pac-Man will take place on our foreharm, just in the spot where the white pill is missing (because he ate it, of course!)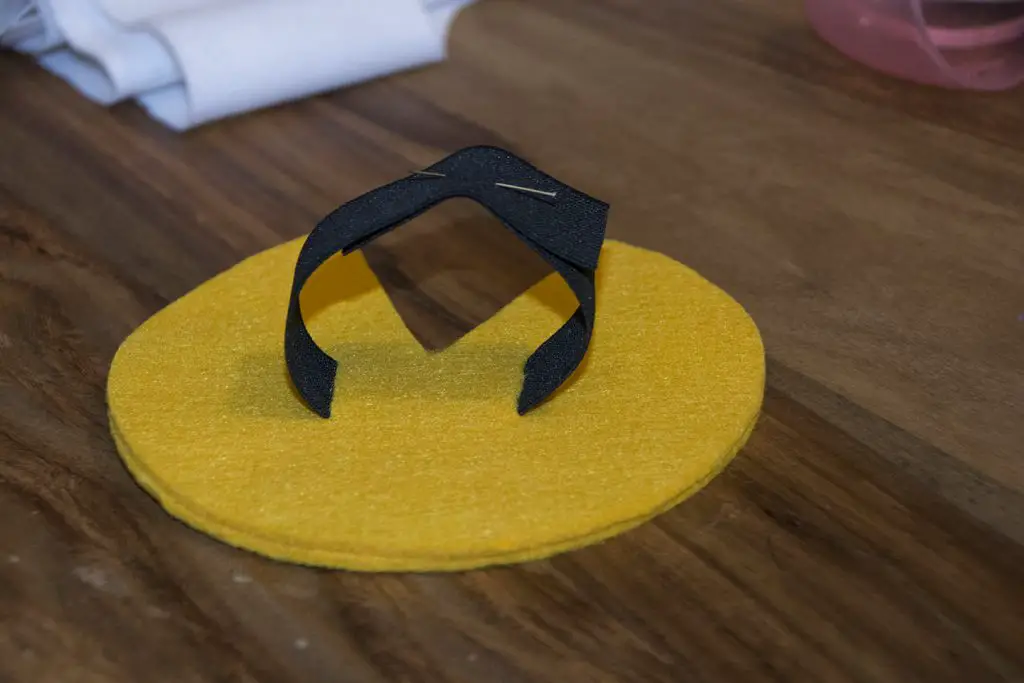 Here you are, the final result! Pac-Man wristband is very practical because it can be put on and off every time you need to wear your coat or your jacket.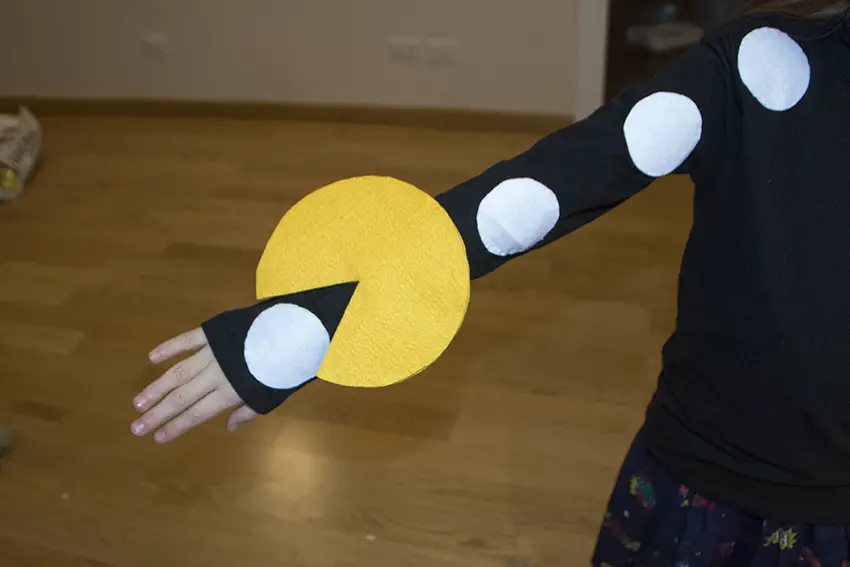 And… this is the very final "Pinky from Pac-Man" costume. Easy, quick and cheap to make. Isn't it cute as well?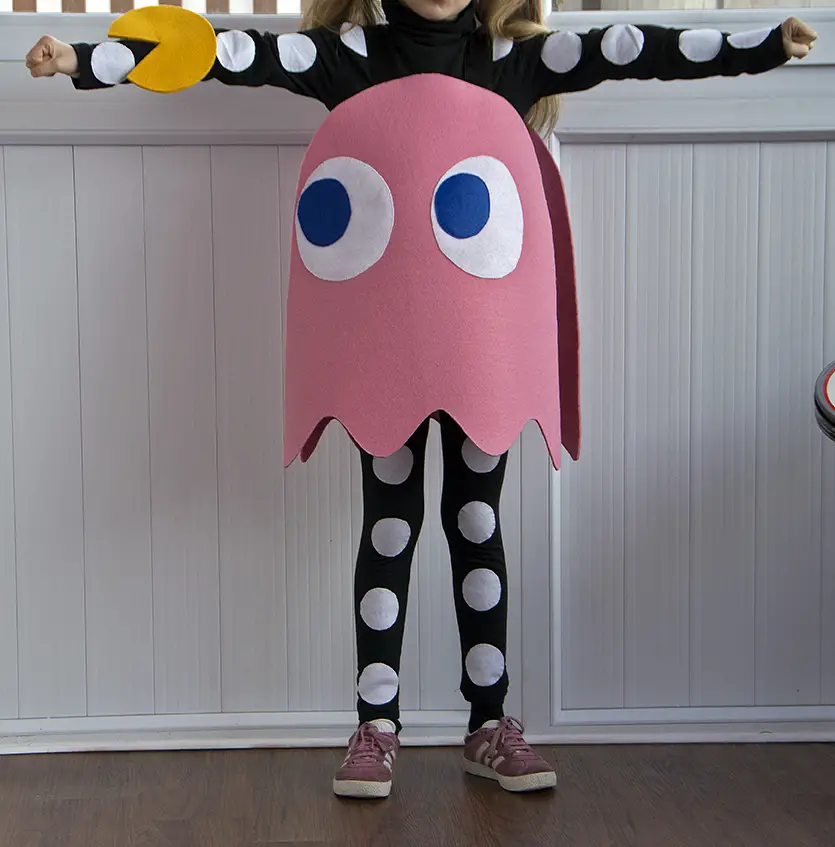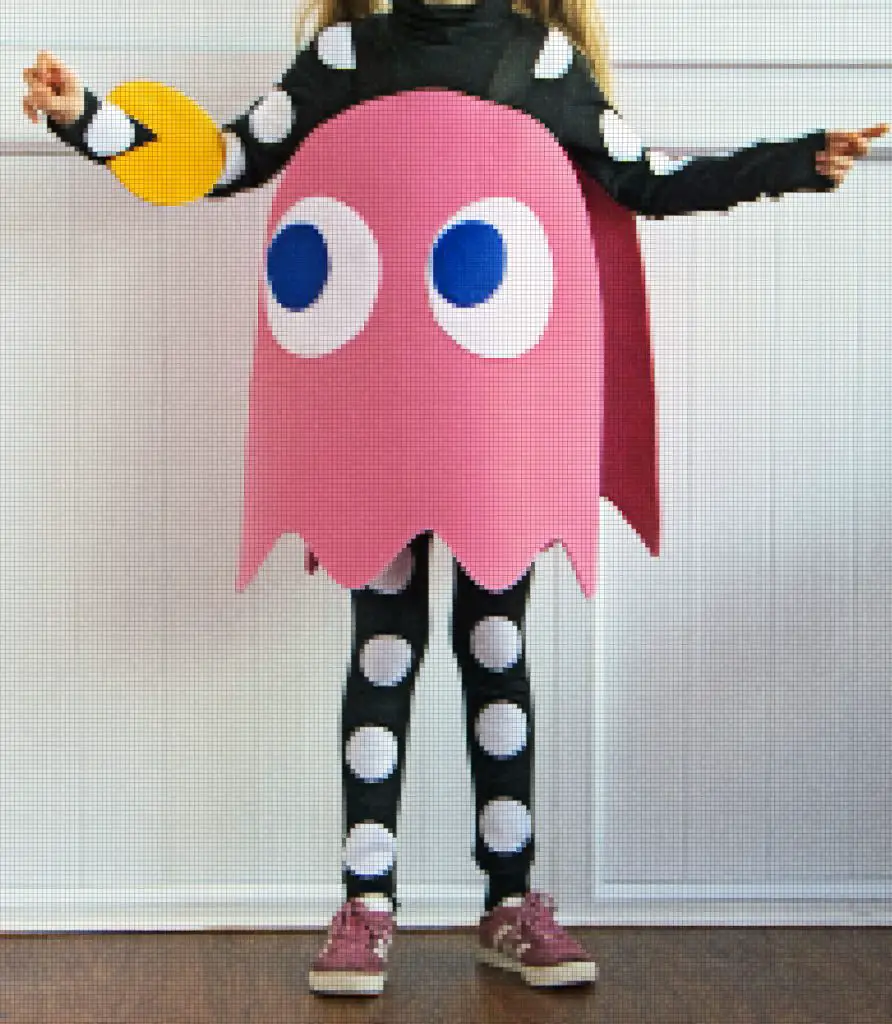 Thanks for reading this tutorial. I wish it may be useful to you eventually. If you have doubts, questions or suggestions, please write them on the comments below. I'd be delighted to know what you think about it.
Bye bye!