The wait is over: on Thursday, October 26 evening, the second season of the most-awaited Netflix series was finally put online, giving the insane amount of worldwide fans another joyful ride among monsters, daemons, hellish worlds, everyday and once-in-a-lifetime adventures, school life, mysterious superpowers… and, most importantly, an incredible flood of easter eggs, references, homages and callback from the fabulous 80s.
Did you manage do catch em all? In an attempt to get the most of them, we tried to put together all our finding in this nine-part anthology, one for each of the nine episodes: feel free to tell us if we missed anything… there's an huge chance that we did!
Stranger Things – Season 2 Episode List
Starring: Winona Ryder, David Harbour, Finn Wolfhard, Millie Bobby Brown, Gaten Matarazzo, Caleb McLaughlin, Natalia Dyer, Charlie Heaton, Cara Buono and Matthew Modine, with Noah Schnapp and Joe Keery in recurring roles.
Chapter One: MADMAX
Dragon's Lair: the 1983 Cinematronics laser-disc game by Rick Dyer and Don Bluth doesn't need an introduction, as it quickly became popular all over the world for its stunning graphics and "not innovative" (yet still quite enjoyable) gameplay. The show is also correct in pointing out how expensive it was… a real coin-eater, expecially if we consider that it was among the first arcade requiring two quarters instead of one for a single credit. For further info, read here.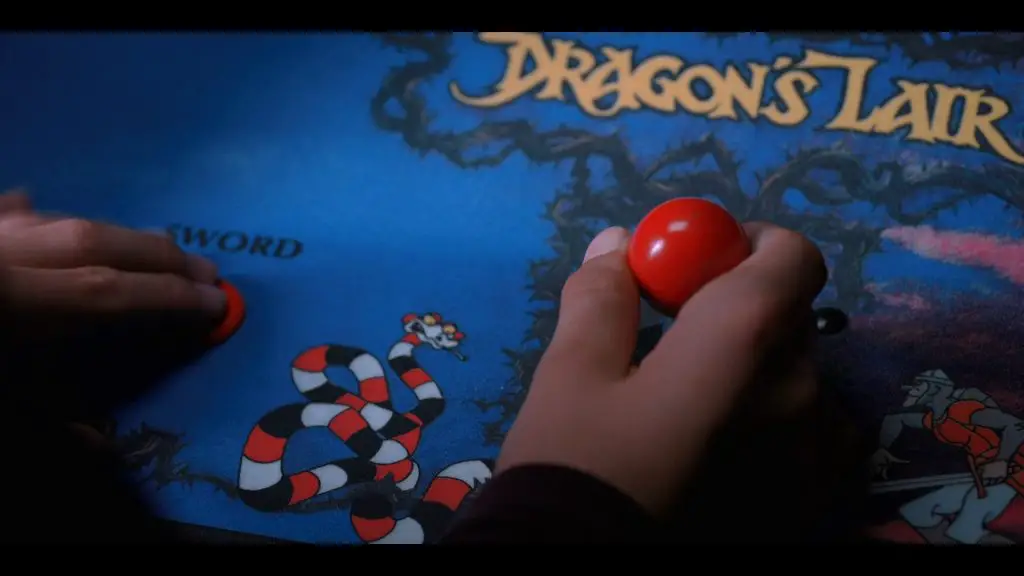 Dig Dug
: for those who never played it, it's a Namco arcade name firstly published in Japan april 1982, and then in USA shortly thereafter; it became very popular worldwide starting of 1983, when Namco licensed it through various home gaming consoles and gaming computers such as Atari 2006/5200/7800, Intellivision, Apple II, Commodore VIC-20 & 64, IBM and Nintendo. The game objective is to eliminate the "Pookas" and the "Fygars", two different races of underground-dwelling monsters, either by inflating them with an air pump until they explode or by dropping rocks on them. For additional info,
read here
.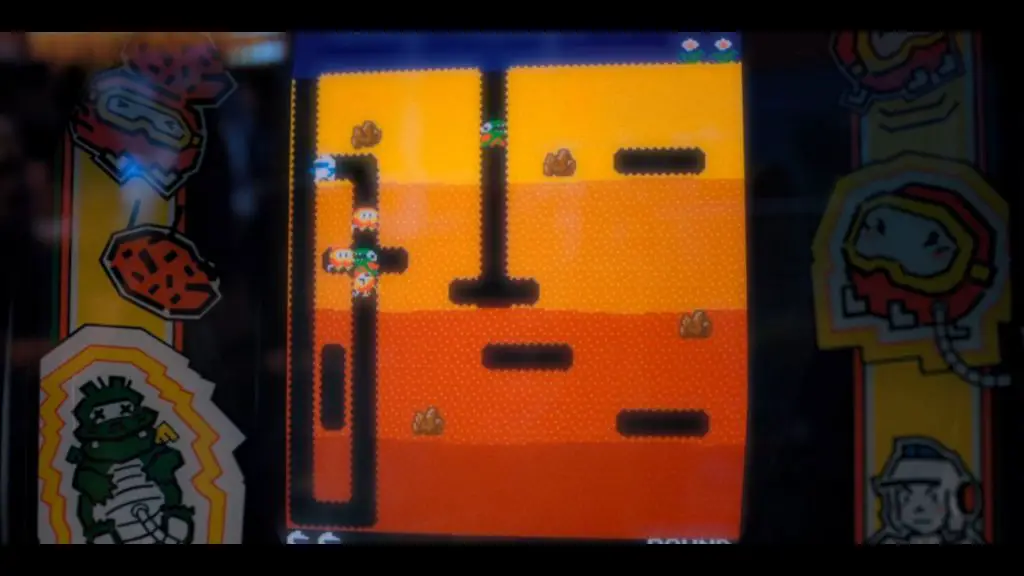 Centipede
: Another arcade game, published by Atari and older than Dig Dug by a couple years. Designed by Ed Logg and Dona Bailey, it's a vertical shooter with some unique mechanics that quickly became a standard among similar games: the player fights off insect-like enemies such as spiders, scorpions and fleas and, at the end of each round, a giant centipede. For more info,
read here
. Within the arcade palace there are many other arcade games that were popular in the USA during the mid-80s, such as
Galaga
(Namco, 1981),
Ms. Pacman
(Midway, 1982) and
Pacman
(Namco, 1980).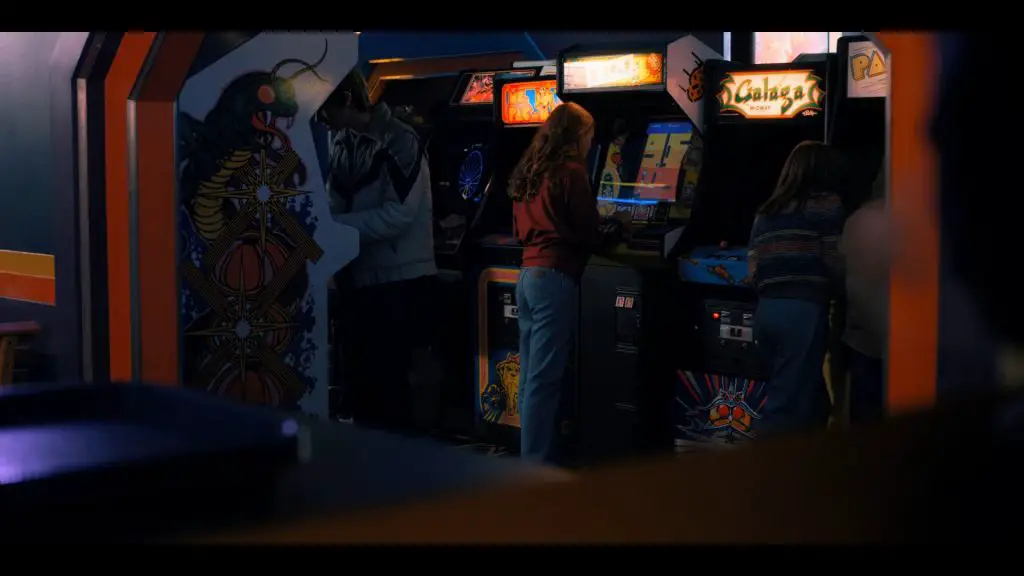 MadMax
: The nickname of the mysterious redhead who beats everyone's records on
Dig Dug
 is an easy catch:
the 1979's George Miller movie
starring
Mel Gibson
with the same name, followed by its sequel (
Mad Max 2
) in 1981.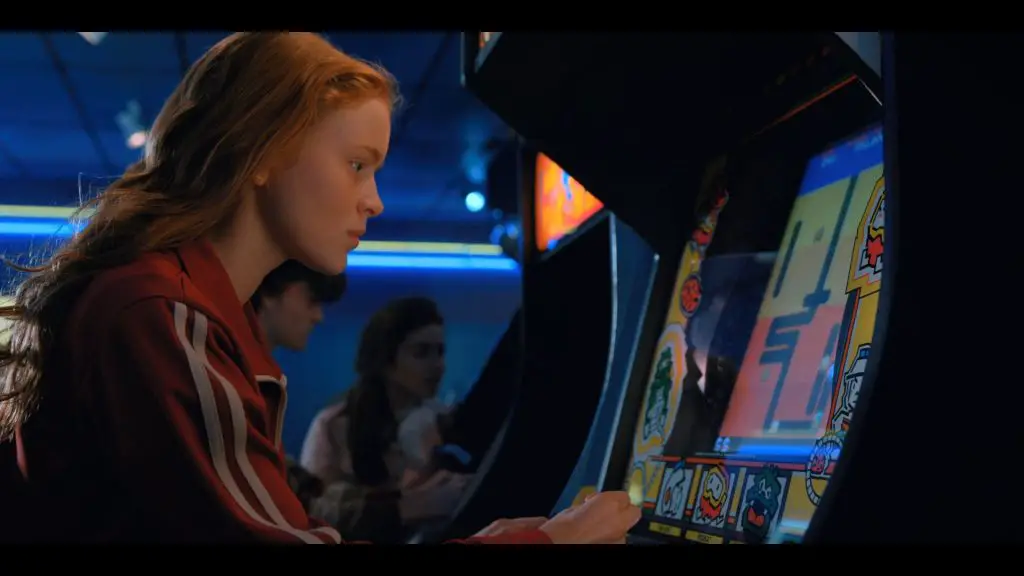 Life Is Strange
: moreover, the redhead girl's name/diminutive/nickname combo can also be seen as an homage to the 2015 episodic graphic adventure
Life Is Strange
, which features a main character having that identical naming streak. We know, that game is set in 2013, yet it also features a lot of 80s references and has many similarities with
Stranger Things
, including the great teen-fantasy atmosphere. In our humble opinion, the callback is most likely there.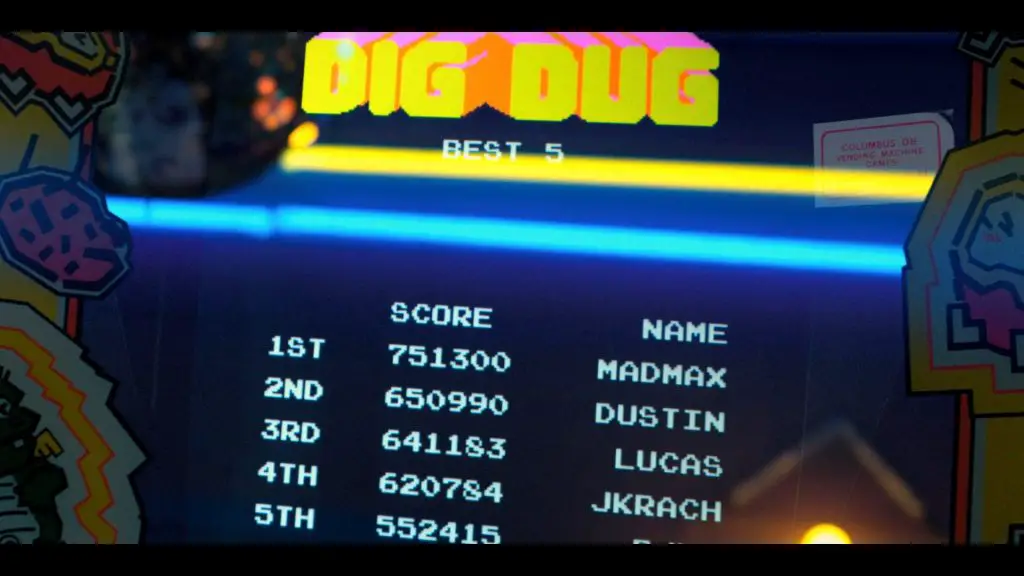 Cheetos Puffs
: the snacks eaten by Keith, the manager of the arcade palace, were firstly introduced in 1971: those shown in the episode were wrapped inside an actual package of 1982. For more info about the Cheetos,
read here
.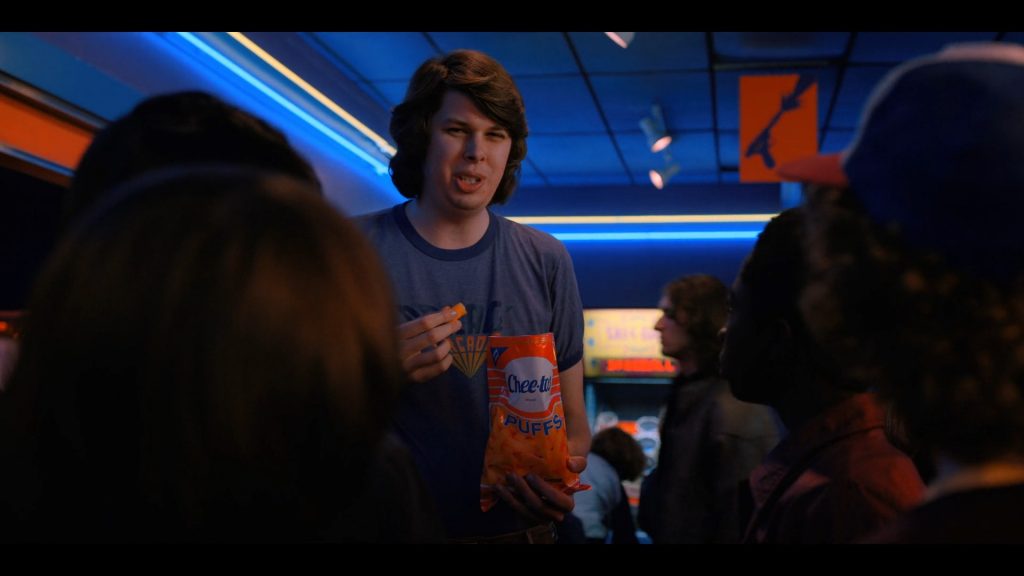 Stephanie Fae Beauclair
: whenever you see a newspaper page in
Stranger Things
, you can be sure there's an ester egg to find there. The newspaper with the
Merrill's Pumpkin Patch Crisis
 – wich is fictional and follows the storyline – also contains an article about the
Baby Fae's Baboon Heart
. If you're curious about the meaning of that phrase, we suggest you to read
this Wikipedia page
. It's about the first infant heart transplant performed in the USA, and it happened on October 14, 1984, few weeks before the events of this episode: no wonder that's still a rather hot news!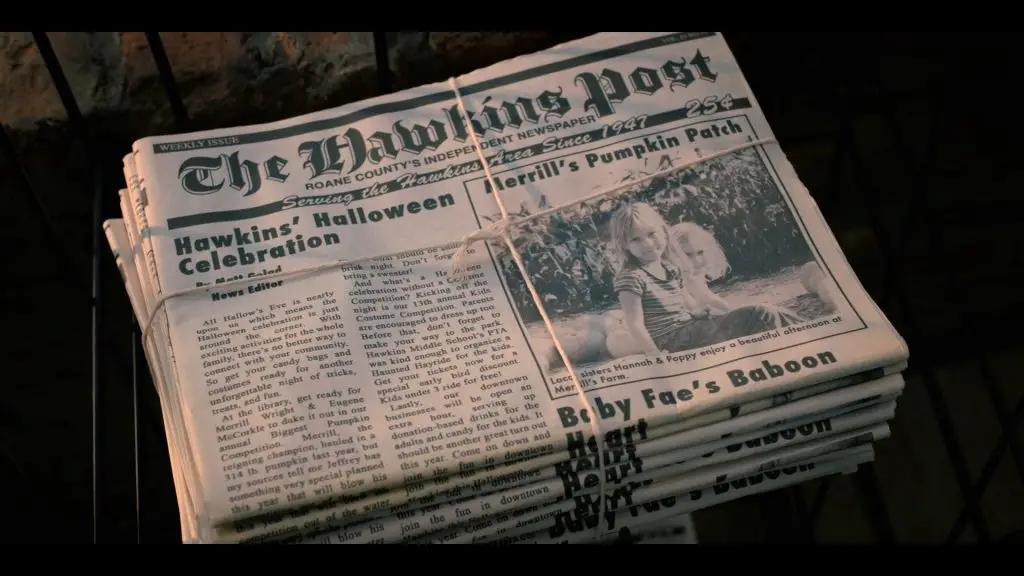 Terminator
: The
first installment
of the homonymous franchise, directed by
James Cameron
, can be clearly seen in that Hawkins theater marquis. The movie premiered on Oct. 26, 1984 in the United States… right on time for 
Stranger Things 2
!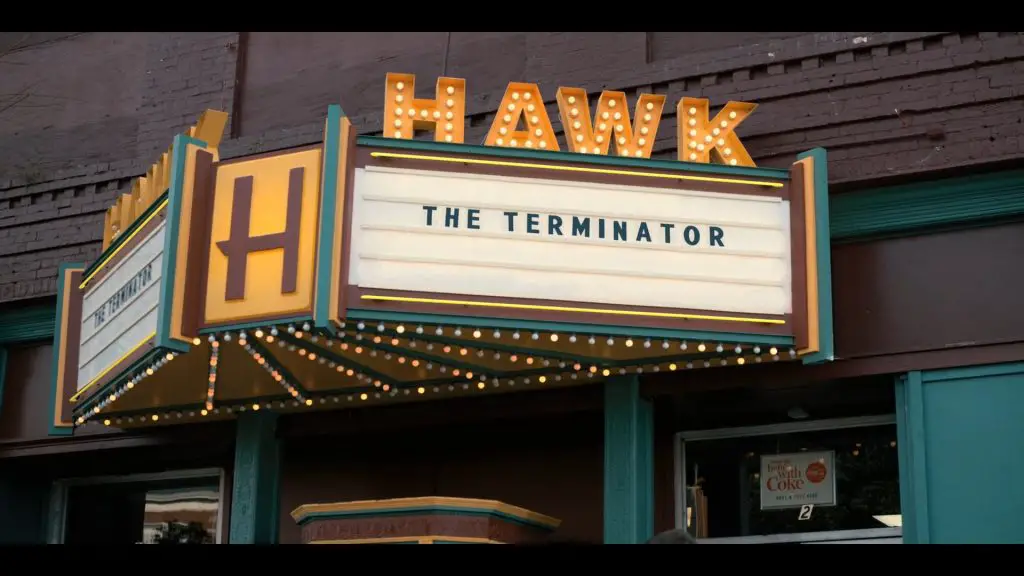 Ghostbusters
: The Halloween costume Joyce is making for Will is an obvious reference to the
first installment
of the
Ghostbusters
movies franchise, directed by
Ivan Reitman
and released on 1984, June 8 in the United States. We'll definitely get to see more about that in episode 2.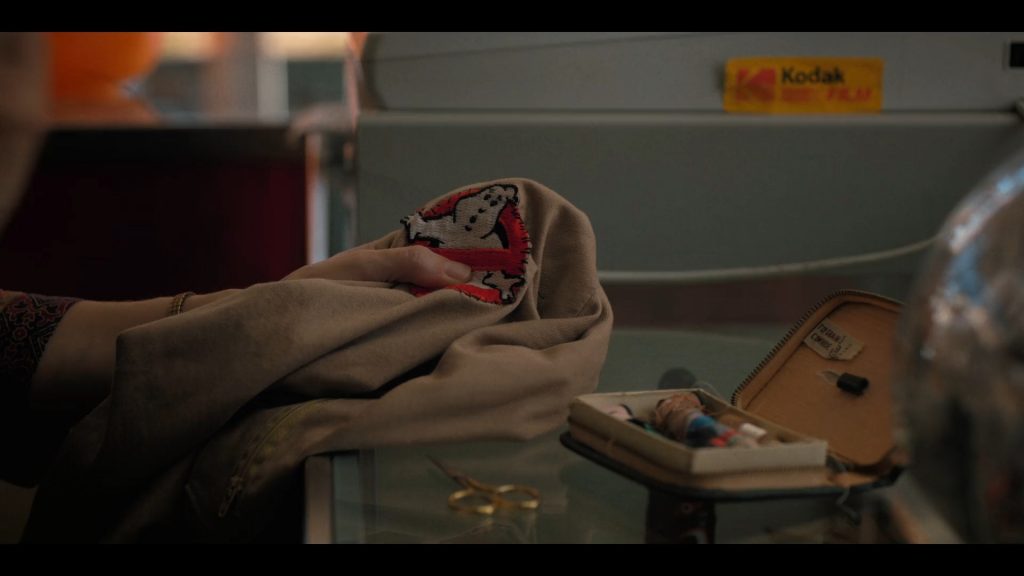 Reagan and Mondale:  In the scene where the main characters peek upon MadMax skating there's a sign near the Hawkins Middle School side entrance saying "Vote Here, Nov. 6". This is a reference of the upcoming United States presidential election, which was held on November 6, 1984. That's great news for the main characters, as their school will most likely be closed for a couple days.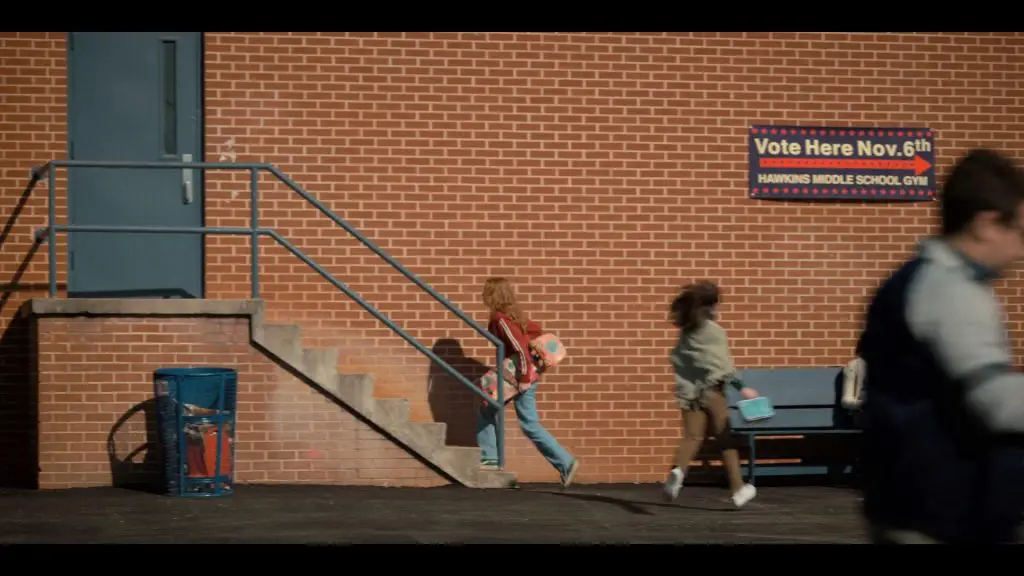 Hill-Billies
:  Almost all the new characters introduced in this episode bring an easter egg with them: Billy, the brother of MadMax, makes no exception, since he's basically a living clone of the Rob Lowe's co-starring role in
St. Elmo's Fire
(
Joel Shumacher
, 1985), which also had the same name.  Although we appreciate the homage, we certainly hope we'll never have to see such an absurd hairstyle again.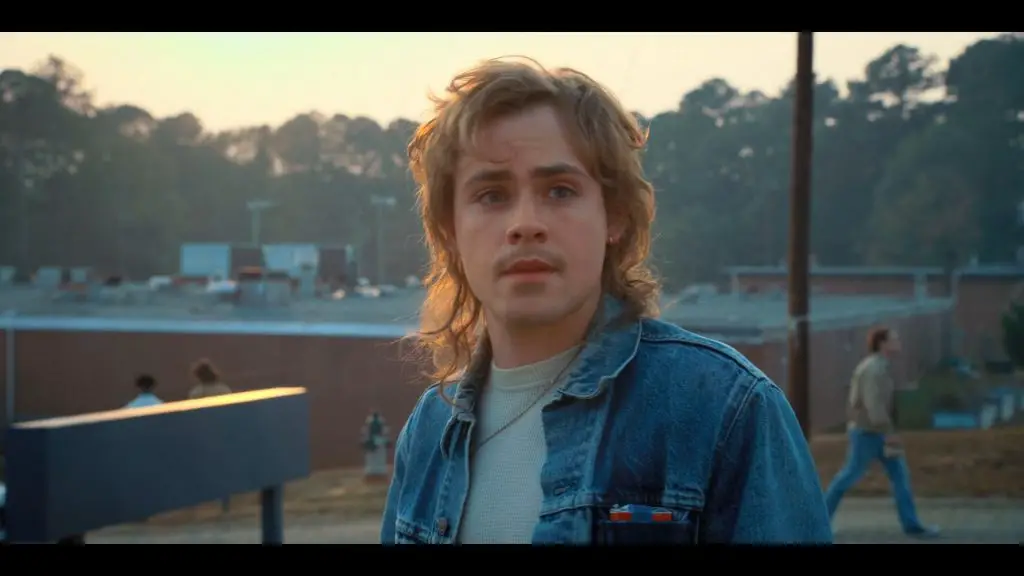 Reese's Piece
: Will's favourite Halloween candy were
firstly introduced in 1977
, but they only became popular after the famous 1982 movie
E.T. the Extra-Terrestrial
, directed by
Steven Spielberg
, in which they are mentioned. The candy is made of genetically modified sugar beets, corn and soya beans, hence it's the perfect meal for the 
upside-down
modified Will…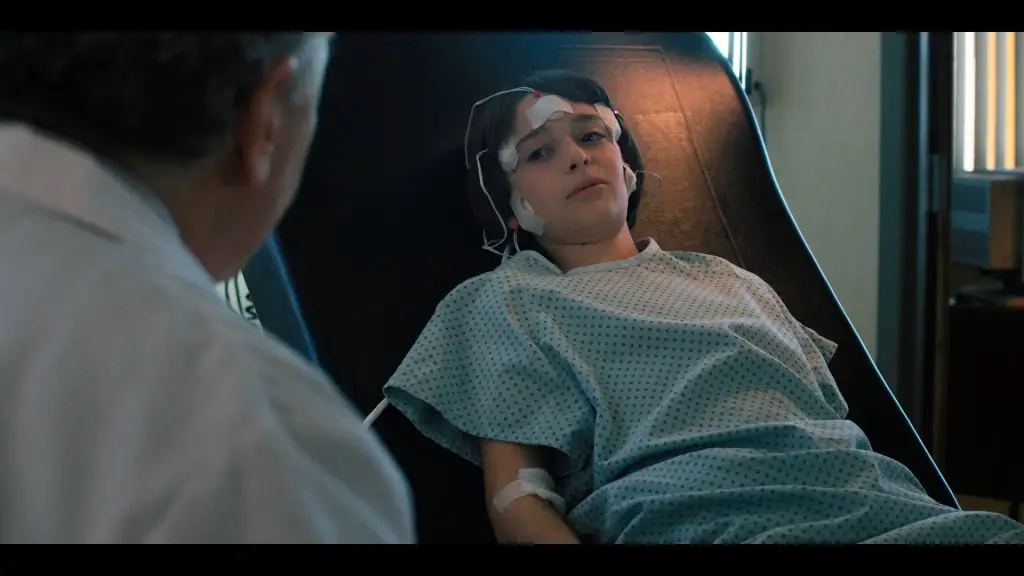 Paul Reiser
: The actor playing the role of Dr. Owen, the doctor that visits Will, happens to be a living homage to 
Alien
, the 1980 masterpiece directed by Ridley Scott: back in those days he did play the infamous 
Carter J. Burke
, a junior executive for the
Weyland-Yutani Corporation
: in short words, the "bad guys", just like the guys the
Stranger Things
doctor happens to be working with. For more info about the
Alien
character,
read here
.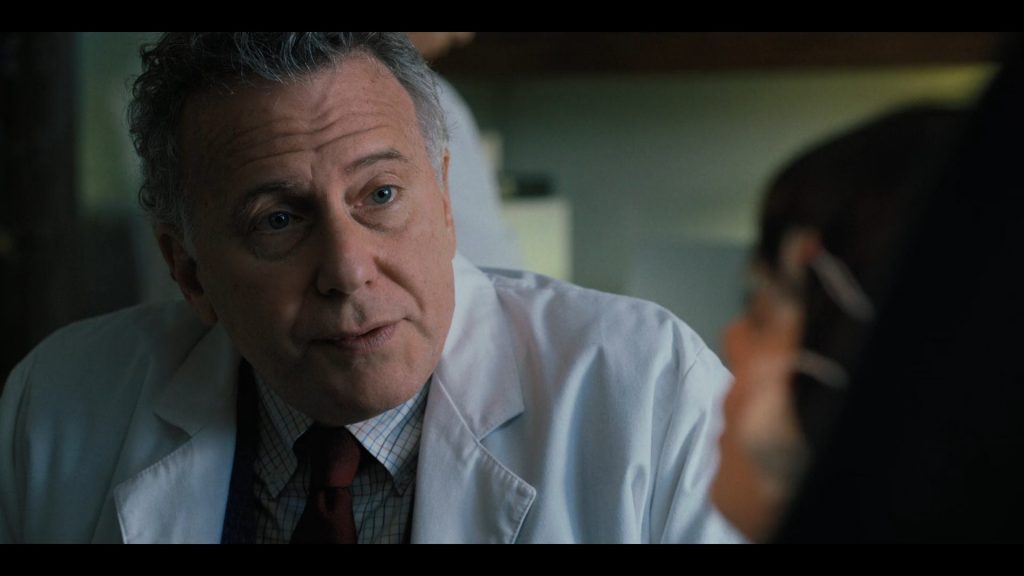 The Willxorcist
: Dr. Owen sequences are quite a forge of callbacks: the various scenes featuring the Doctor speaking to Will, examining him and then trying to explain a reassuring story to his grieving mother Joyce brings back memories of the disturbing initial mood of the William Friedkin 1973 masterpiece:
The  Exorcist
, where a bunch of medics struggles in vain to understand what's happening to the poor girl under the increasingly distressed gaze of her parents.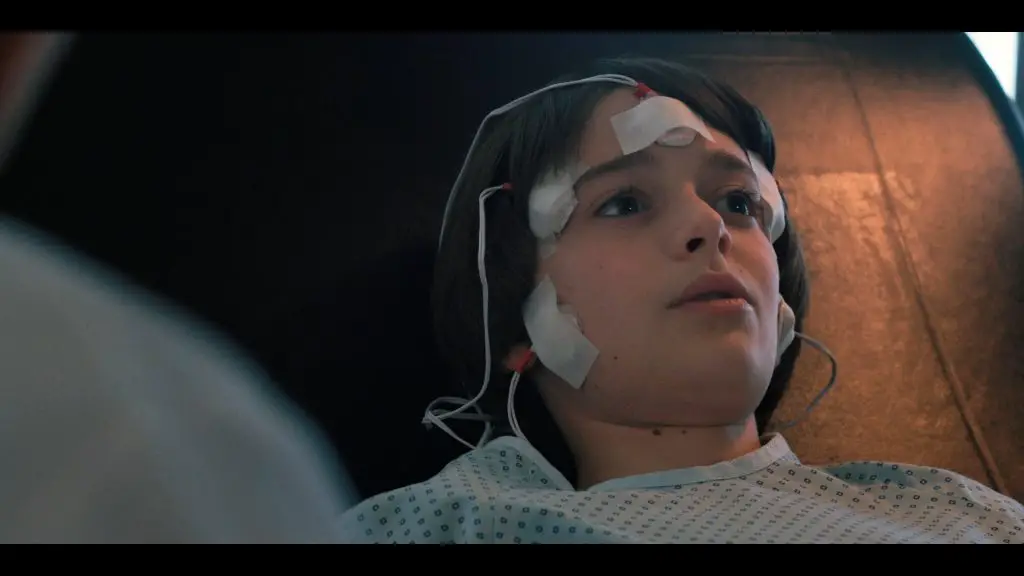 Millennium Falcon
:  The
Star Wars
iconic model that made its first appearance in Mike's room during Season 1 is back! We can be sure that Mike will never sell it for a family garage sale, not only because it would be a sacrilege for most fans (and the authors know that), yet also because it brings back memories of Eleven:  the girl made some questions about the vessel and even made it fly with its psionic powers back in Season 1. No wonder he tried to contact her right after watching it! Don't worry Mike, she's just a couple miles away after all, to the point that she could even respond to that walkie-talkie call… Too bad you don't know that (yet)!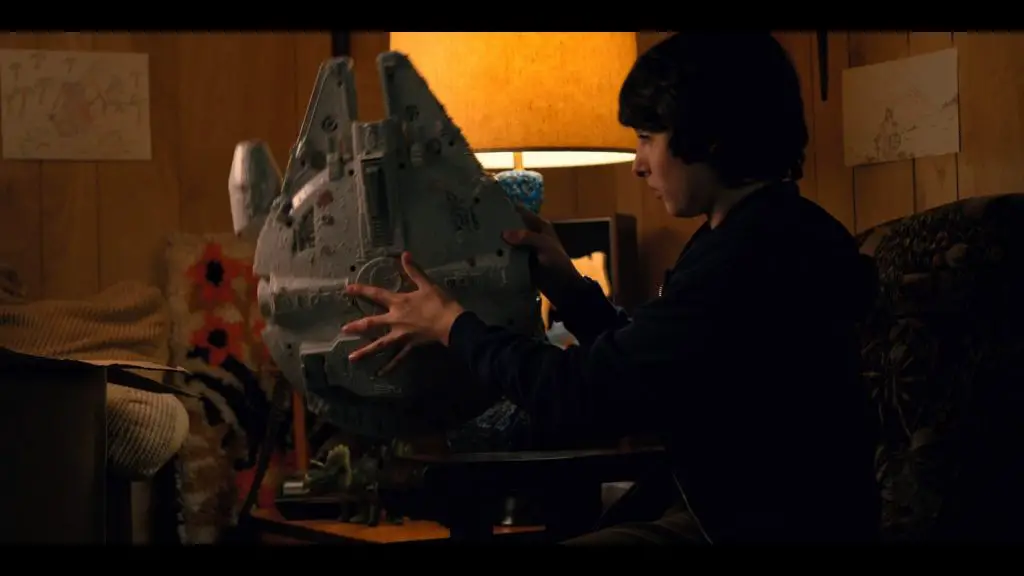 Bowie or Kenny Roger
:  two easy callbacks there; 
Bowie
 comes back as an explicit reference after the
Peter Gabriel
's
Heroes
cover at the end of Season 1, Episode 3; first-time debut for 
Kenny Rogers
, which started his singing career in the 50s and was legitimately seen (and heard) as a thing of the past by most of the 1984's joungsters.
Mr. Mom: Bob, the character played by Sean Astin, doesn't look like the kind of guy who loves horror movies. That's probably why he was so pleased to see that Jonathan didn't pick anything scary: among them he chooses to see Mr. Mom, the 1983 comedy that boosted up Michael Keaton's career; definitely not the ideal choice for an Halloween night…
Sean Astin: Sean Astin happens to be another living callback by himself since it had a leading role in The Goonies (Richard Donner, 1985), which is arguably the greatest and most important influence of the whole Stranger Things franchise.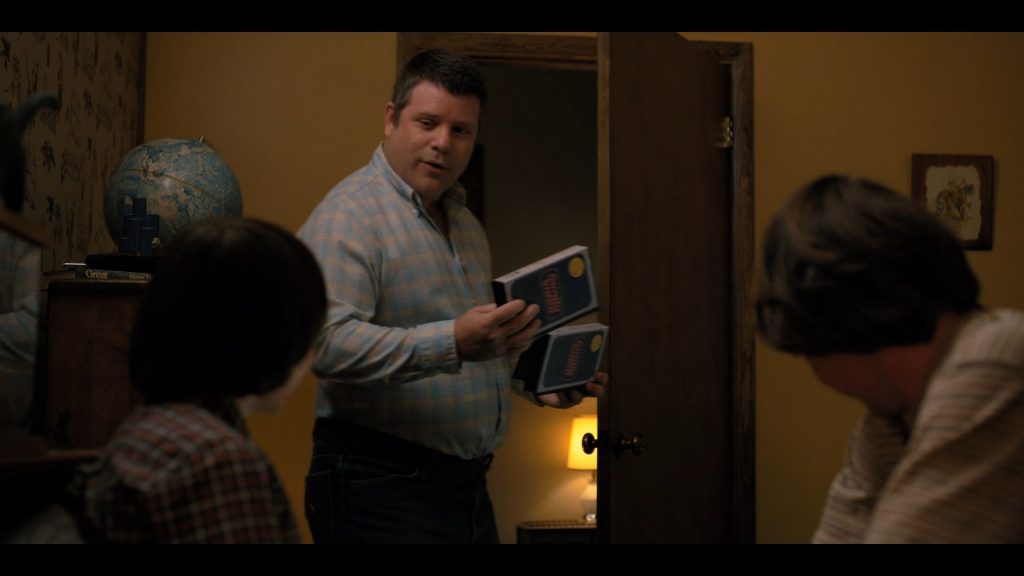 Close Encounters of the Upside-Down
: The sequence that shows Will looking outside the door is an almost-identical – and beautifully crafted – cinematographic replica of the iconic scene from another Spielberg masterpiece:
Close Encounters of the Third Kind
 (1977): chapeau!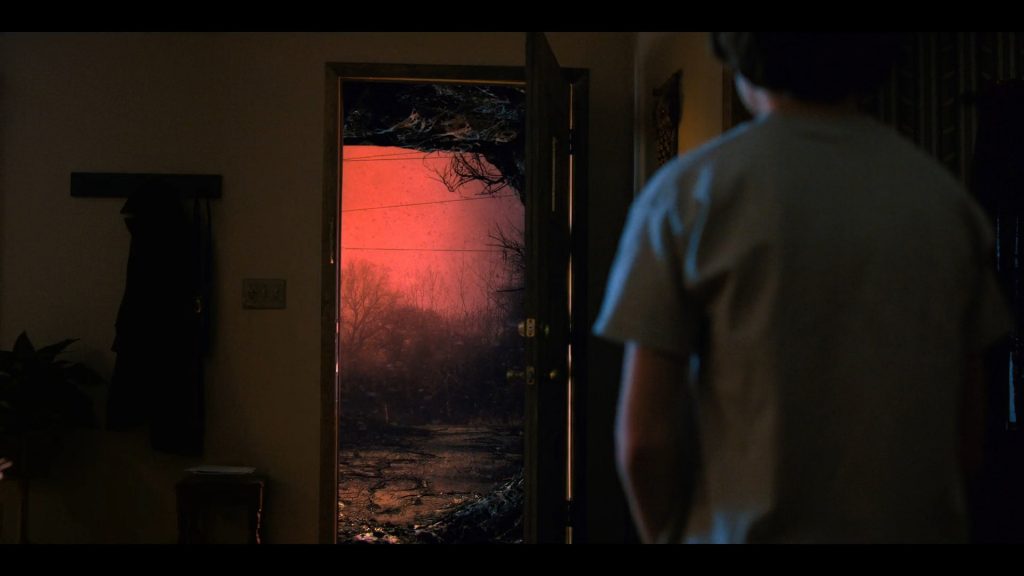 Extreme Measures
: The
flamethrower-vs-slimey
sequence in the basement of the
Weyland-Yut
… ahem, the medical centre where Will is visited can be easily read as a visual homage of many sci-fi flicks of the 80s, such as
Alien
and
The Thing
.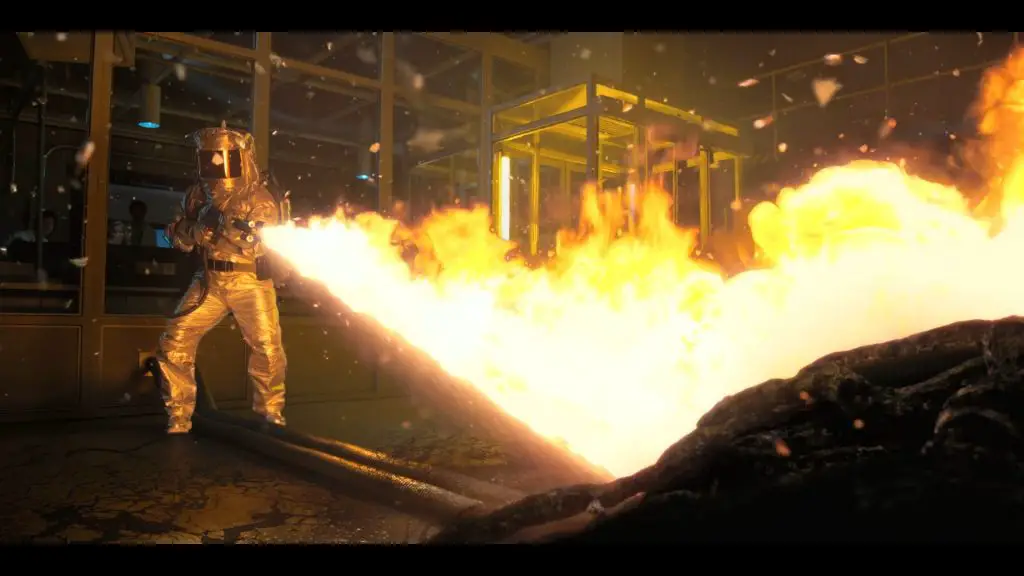 That's it, at least for the time being: if you've got something else, tell us in the comments and we'll be happy to update the list!
Soundtrack, Music & Songs
For a comprehensive list of this episode soundtrack, together with all the musical Easter Eggs, References, Homages and Callbacks, read here.